Could a HEMP based energy drink really make us smarter?
And in the process, this one hemp based beverage stock could give your portfolio a boost

Have you heard of KOIOS?
KOIOS is a nootropic formula designed to combat ADHD and to eliminate harmful stimulants. KOIOS combines 11 potent nootropics which delivers a high performance brain enhancement supplement.
The short-term results of KOIOS are staggering, and each ingredient in the formula has been shown, scientifically, to have long lasting positive effects on the brain.

Did you know:
Amphetamines are abused by 1 out of every 6 college students world wide. Amphetamine use has been linked to high blood pressure, heart failure, dementia, erratic behavior and in rare cases suicidal tendencies and suicide. Doctors prescribe Adderall to children as young as 6 years old.
GRSU's KOIOIS products combat ADHD but without the harmful side effects.
The product had been shown to improve circulation, oxygen levels and blood flow to the brain; thus creating a heightened state of focus, concentration, cognitive function, memory recall and all day mental energy and clarity. The new formulation will take advantage of the current technology as well as synergies between the KOIOS formulation and the volumes of research on hemp oil and hemp derivatives.
Hot off the Press: Global ADHD Therapeutics Market to Reach US$ 25 Bn by 2024 – Persistence Market Research
According to the latest market report published by Persistence Market Research, titled 'Global Attention-Deficit Hyperactivity Disorder (ADHD) Therapeutics Market: Rising Prevalence of ADHD and Continuous Innovation by ADHD Drug Manufacturers are Factors Expected to Drive Revenue Growth by 2024′, revenue from the global ADHD therapeutics market is expected to expand at a CAGR of 6.2% during forecast period 2015 – 2024.
Stop abusing your brain and feed it. GRSU gives it the nutrients it desires and craves to operate at peak levels

GRSU distributes KOIOS products in:
Max Muscle Nation Wide, Nutrition Warehouse, Nutrition Zones, Power Nutrition, Hi Health (45 Locations), Gold's Gym, Powerhouse Gym, Smoothie Kings (nationwide), Nutri Shop, Ultimate Sport Nutrition, Nutrition Depot, Anytime Fitness, Complete Nutrition and many more.
Just last week, GRSU announced the Company's new KOIOS Raspberry Wonder with Hemp beverage will soon to be released and will be distributed by Europa, the nation's largest distributor of Sports Nutrition Products.
Quickly load up Monster Beverage Corp. (MNST). You'll see this is a stock trading nearly $160 a share!
This wasn't always the case. Monster is one of the most successful penny stock stories in the market. It was once at 69 cents back in the 90s when it used to be Hansen Natural. What a long way it has come, huh?
The trillion dollar beverage industry has proven to be recession proof and the same way energy drinks became as big as they did, it could now be the time for hemp to revolutionize the market.
There are already TWENTY THREE legal medical marijuana states and FOUR states plus the District of Columbia have legalized marijuana for recreational use.
Many states are getting closer and closer to legalization every election cycle making the industry even bigger!
GRSU at these levels could be ground-floor as the news about the joint venture is still very fresh!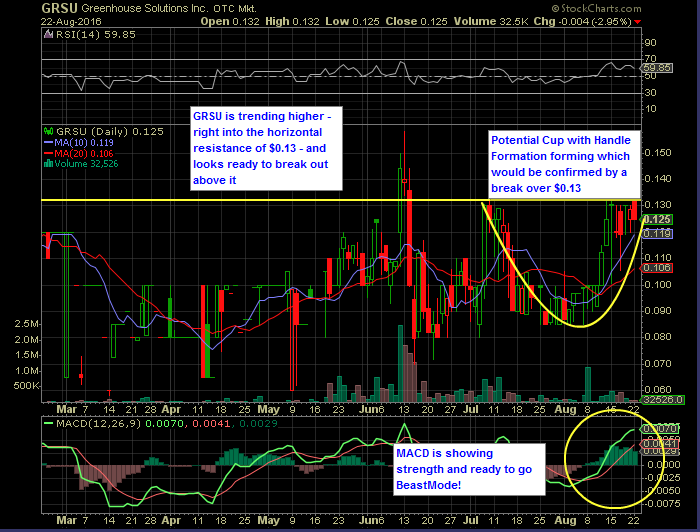 GRSU is trending higher since the beginning of August and looks ready to break out over $0.13 horizontal resistance.
GRSU is forming a potential Cup with Handle which is a continuation pattern and indicates a retest of recent highs should be happening in the short term.
GRSU MACD is showing a very strong move higher.  This is ready to go BeastMode!
Could GRSU be our next monster gainer? 
We'll let you continue your due diligence and we'll get back to you with updates in the near future.
DISCLAIMER PLEASE NOTE: This GRSU stock report, blog, and any reposts on the TRADDR network are part of a commercial advertisement and is for general information purposes only. All content is for informational purposes only and should not be construed as an offer or solicitation of an offer to buy or sell securities. Neither the information presented nor any statement or expression of opinion, or any other matter herein, directly or indirectly constitutes a solicitation of the purchase or sale of any securities. Readers should always consult with a licensed securities professional before making any type of investment decision. Please be aware that TRADDR expects to be compensated Two Thousand Five Hundred Dollars from a 3rd party (DF Media) to assist in the creation and dissemination of GRSU media and social network advertisements and/or corporate updates.