There are Still Unknown Pot Stocks!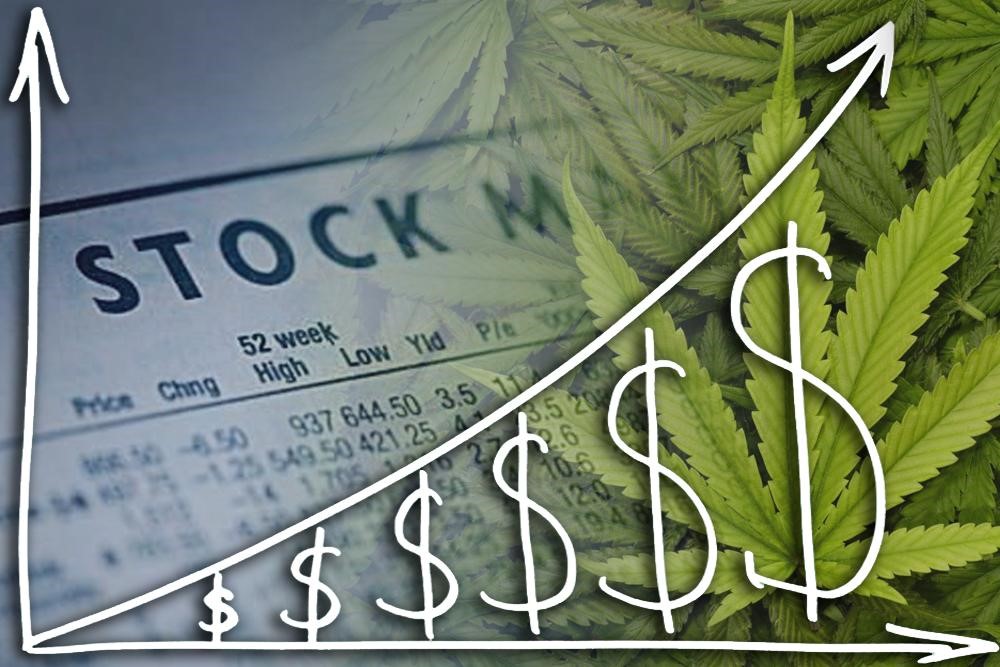 Most of the "big names" in marijuana are so overvalued there can be only downside for long term investors. Meanwhile small cannabis firms are quietly building their own powerhouses and have yet to be discovered.  
Get in now, before Wall Street catches on!
INNOVATION FROM SEED TO SALE
Chemesis (OTC QB: CADMF) is an innovative, first-mover in the cannabis industry.  Chemesis is establishing new global markets complimenting its worldwide reach and exclusive partnerships. 
These are the facts: The worldwide legal cannabis industry is exploding exponentially.  Even after significant growth, the industry is still in its infancy.  There are many opportunities for investors to profit.  This is a level playing field where everyday investors are hitting home runs.  And we have found a beauty.
JEFFERIES ANALYST PREDICTS THE WORLD MARKET FOR LEGAL WEED WILL REACH US $30 BILLION BY THE YEAR 2022, AND UPWARDS OF $50 BILLION BY 2029.
Diversified financial services company Jefferies Financial Group just made a huge prediction on the state of Cannabis market.  Jefferies analyst contends that investors shouldn't worry that "weed is just another agricultural commodity" whose price will drop from oversupply. Premium pot won't become commoditized, and they do not see a cannabis glut occurring until mid-2021 at the earliest.  They believe a "realistic" bullish case could see the industry enjoy as much as $130 billion in sales by 2029 thanks to pot's disruptive nature.
This sector is about to get even hotter.  One innovative company is standing out amongst their peers and is gaining a widespread audience.  It would be a disservice to not mention this budding superstar.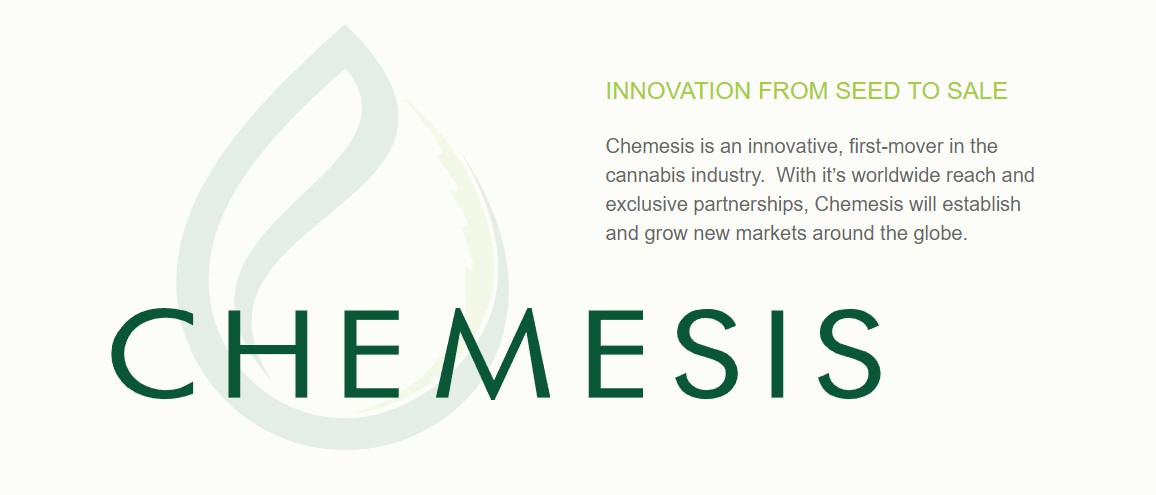 Chemesis International Inc. (OTC QB: CADMF) operates in the most important and most profitable sectors of the cannabis industry.  They are a vertically integrated global leader in the cannabis industry, with operations in California, Puerto Rico and Colombia.  Expansion plans expect to see further market penetration in Europe, Australia, and the rest of the US.   
CADMF has a fully compliant state-of-the-art manufacturing facility that is 35,000 ft² and has a license to cultivate 100,000 ft² of cannabis. This rivals any in the market today. Chemesis currently has the capacity to produce 30,000+ lbs of cannabis per year and 90 kilos of crude oil per day. They also have multiple expansion opportunities in California, Columbia, and Puerto Rico.
"The California market is a key part of Chemesis' business plan and the Company will continue to take advantage of upcoming opportunities in this market. To date, our brands have garnered significant interest, and this additional manufacturing space gives us the ability to further meet consumer demand."
 Chemesis is an innovative, first-mover in the cannabis industry and will leverage its worldwide reach & exclusive partnerships into new markets.  Revenues are derived from cultivation, manufacturing, distribution, & retail sales.  The flagship facility in California can produce up to 200 lbs. of Cannabis Oil per day.

CADMF plans to add an additional 25,000 ft2 of manufacturing, in Cathedral City, California. This will be one of the biggest in the state.  The company anticipates completion of the additional manufacturing space by Q2, 2019. With this expansion, Chemesis can focus on growing its finished goods portfolio, which includes beverages, edibles, and other consumer goods.
Chemesis Subsidary, Natural Ventures, launched its beverage division in Puerto Rico. Natural Ventures is a fully integrated medical cannabis company, with 100,000 ft2 of cultivation and 35,000 ft2 of manufacturing and extraction. Natural Ventures is currently servicing approximately 90% of the dispensaries in Puerto Rico.
CADMF manufacturing expansion maximizes efficiencies, and increases production capacity for Chemesis' brands, including California Sap and Jay & Silent Bob's Private Stash, as well as third party brands.
Chemesis also owns Desert Zen, a manufacturing, transportation and distribution company, that has passed California's stringent cannabis transportation laws. What's more, they are able to track, monitor and ensure that all seed-to sale laws are followed throughout their business vertical. Desert Zen has even begun servicing other producers and brands throughout the region.

While the bulk of the world focus on North America, there is a burgeoning opportunity in Latin America.  Prohibition Partners believes that the Latin American cannabis industry will soon grow from $125 million in revenue this year to $12.7 billion by 2028.
Latin America has a population of over 650 million, but the continent's total health care costs are around $354 billion — significantly smaller than Europe, which has a population of 740 million and health care spending of more than $2.6 trillion. Nevertheless, the
medical cannabis market in Latin America

accounts for the bulk of the entire marijuana industry, and Prohibition Partners estimates it will reach $8.5 billion by 2028. The firm estimates the recreational market will reach $4.2 billion by 2028.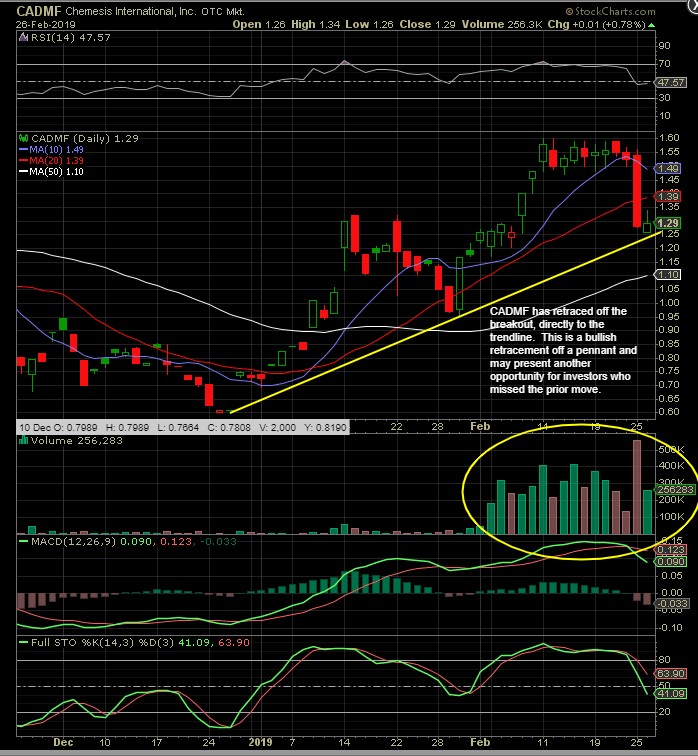 After raising nearly $6 Million Canadian Dollars in financing, CADMF had a correction but retraced precisely to the trendline.  This is a bullish retracement and the trading pattern offers investors who missed out on the previous run, an opportunity to take advantage of the pullback.
Volume always confirms the move and in this case the recent volume has been historic.  This is evidence that investors are taking notice.  What do you think will happen with the rest of Wall Street discovers what you are reading?
Chemesis International Inc. (OTC QB: CADMF) is an under-the-radar company offering a high-upside opportunity!  These are highly compelling reasons for smart-money investors to take action before the window of opportunity closes.
DISCLAIMER PLEASE NOTE: This CADMF stock report, blog, and any reposts on the TRADDR network are part of a commercial advertisement and is for general information purposes only. All content is for informational purposes only and should not be construed as an offer or solicitation of an offer to buy or sell securities. Neither the information presented nor any statement or expression of opinion, or any other matter herein, directly or indirectly constitutes a solicitation of the purchase or sale of any securities. Readers should always consult with a licensed securities professional before making any type of investment decision. Please be aware that TRADDR Affiliates expects to be compensated two thousand  Dollars from Full Service Media, Inc to assist in the creation and dissemination of CADMF corporate profile, media and social network advertisements and/or corporate updates.  We do not guarantee the timeliness, accuracy, or completeness of the information on our site. The information in this blog is believed to be accurate and correct, but has not been independently verified and is not guaranteed to be correct. The information is collected from public sources, such as the profiled company's website, press releases, SEC filings, and 3rd party research.