Meet the undiscovered Real Estate Cannabis Stock which is Set to Capitalize on Legal Recreational Marijuana Sales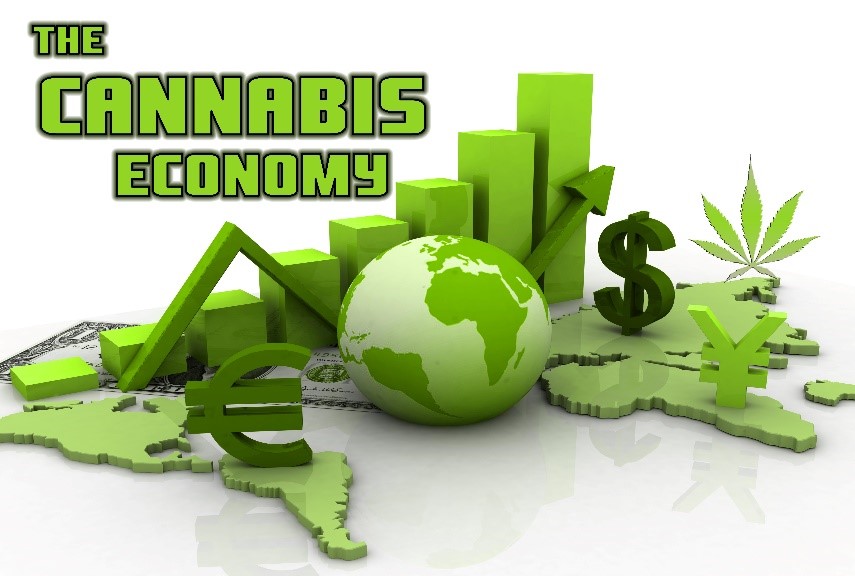 Almost a full year has passed since cannabis initially went on sale in Oregon – and the first licensed retail shops are set to open their doors on October 1st.  Oregon became the third state where marijuana can be legally purchased for recreational use after Colorado and Washington last year.

As with any governmental amendment, there is a potential dilemma – one which can be a huge boon for those properly prepared.
You see, the problem is not in the industry.  ArcView expects the legal pot market to show a compound annual growth rate of nearly 30% over the next few years.  The dilemma is not the legalities.  Legal U.S. Marijuana Market Will Grow To $7.1 Billion In this year alone.
Oregon medical marijuana dispensaries have sold an estimated $102 million in recreational cannabis just since January alone.  This is when the state imposed its 25 % sales tax on Cannabis.
Oregon has collected about $25.5 million in marijuana taxes in the first six months of this year and State economists estimate that they will collect about $44.4 million in marijuana taxes in 2016, the first year of the tax.
The real issue here is real estate – or rather lack thereof.  A severe shortage of accredited locations exists – and this could be a problem as retail dispensaries have October 1st marked down on their calendars. The date is just around the corner.  Growers cannot keep up with this unprecedented demand.
Three words: Location, Location, and Location.
This is widely regarded as the three most important factors when buying real estate.  And if this investment property happens to be in the same state that recently legalized the recreational use of MJ and business is booming – it doesn't take a Financial Analyst to realize just how valuable this asset can become. In locations which are dedicated to the science of growing Marijuana, business is booming.
After the legalization of Marijuana in Colorado, residential and commercial properties started skyrocketing prices.  Now this previously affordable location has been transformed where only the super wealthy can buy.
The Marijuana Business Has Transformed the Real Estate Business
While sales of Marijuana seemed to be the meal ticket, the real money nowadays is in the real estate that represents the most crucial part of the cannabis business.
The safe bet:  Buying Real Estate
"With so many obstacles and regulations in our way, owning your real estate is the only thing we can control in this industry.  It's essential to long-term success."
Owning your own real estate may yet be the smartest and safest way to protect this investment and hedge against potential legislative issues from being in the Marijuana business. Some cannabis entrepreneurs are even pivoting away from the retail pot business to pursue real estate riches while the getting is good. A major west coast seller is now focusing on real estate instead of running dispensaries because marijuana properties are a hot commodity—where a $2 million piece of land could go for as much as $10 million – if zoned properly.
In Oregon, the "Green Rush" has driven up commercial real estate prices, as ganjapreneurs look for large, urban spaces to grow. Buildings zoned as "light industrial" which were vacant for many years are now one of the most sought after and valuable assets.  These buildings and warehouses which languished for years are now leasing for 2-3 times the market rate!  While properties may go quickly, a secondary market has blossomed –  well established companies which buy a property, get a license and sell the whole package to smaller businesses.  Several firms are tasking teams solely looking for property to buy or lease, strictly to rent to the MJ business.  There is even a Real Estate Investment Trust (REIT) trying to become the MJ Industry's "honest landlord" buying up properties and creating agreements to rent to Marijuana Entrepreneurs.

ENTER GROW CONDOS:  YOUR ONE STOP SOLUTION
 
Grow Condos, Inc. (OTCQB: GRWC) has taken a very unique approach to capitalizing on the cannabis growth opportunity.
Since companies can't profit from this explosive space if they don't grow enough product, this is where GRWC saves the day. Grow Condos, Inc provides the essential growing space for cannabis entrepreneurs. It also provides financing for the purchase and development of properties as well as important technical equipment for the growing process.
The Solution: GRWC is a real estate purchaser, developer & manager of specific use industrial properties providing "Condo" style turn-key grow facilities to support cannabis farmers. We own, lease, sell and manage multi-tenant properties.
GRWC's property portfolio is impressive:
15,000 square foot warehouse in Eagle Point, Oregon which they manage for Marijuana Growers

A new project of approximately 42,000 square feet of warehouse condominiums in the Pioneer Business Park in Eugene, Oregon

New Locations Coming Soon!
The Marijuana industry requires growers, processors and retailers. The businesses themselves, also need lawyers, accountants, security and probably consultants.
However, it's the enterprising entrepreneurs who find an untapped niche and fill it. One company that has stepped up to fill a need within the industry is Grow Condos.
Check out their latest video here:
What does GRWC Offer?
Growing space within warehouses

A supply of cannabis cultivators with the location

Financing the purchase and/or development of properties

Supplies

Equipment

Keen knowledge on growing and harvesting the marijuana plant.
GRWC has hit several milestones and corporate achievements in their growth
Closing of the Company's second industrial condo development property that aims to be equipped for 33 industrial units based in Eugene, Oregon, and will enable the Company to sell prime condo style units at a starting price of $150,000 per unit for the base shell;

Establishment of an Advisory Board – providing the Company and their clients industry specific guidance and assistance;

Alignment of partnerships – which strengthens their capacity to serve the marketplace on an educational level, supporting both the build out and the on-going farming strategies within the units;

Creation of an RV/Campground division entitled "Smoke on the Water", designed to cater to Marijuana friendly travelers.
What this all means is that the time to capitalize on the growth opportunities like GRWC is potentially right now.
Grow Condos, Inc. looks to meet or exceed the following milestones:
1)  Sell out the Eugene property. GRWC believes that the final 33 to 37 units available on the development will sell out quickly as they received a tremendous amount of interest, even before being permitted to even accept deposits.
2) Target their first property outside Oregon and continue building a national footprint.
3) Expand the management team to properly scale out the national footprint of condo development properties.
4) Continue creating Joint Ventures which enables greater service offerings for condo purchasers. Value added relationships provide a full circle one stop solution for GRWC clients.
5) Grow the Advisory team providing the best and brightest of industry resources.
6) Develop the "Smoke On the Water" brand, and target the first acquisition property. GRWC is looking at a number of properties which could be ideal candidates for an initial acquisition. Tourist interest in states and cities where it is legal to buy and consume cannabis without a medical license has increased, and new industries are seeking to serve those travelers.
Recreational marijuana use is now legal in Colorado, Washington, Oregon, Alaska and the District of Columbia. It has been legalized for medicinal use in 23 states and the District of Columbia, where it is used to treat a wide variety of illnesses like seizure disorders, multiple sclerosis, and glaucoma, and to alleviate the symptoms of aggressive treatments that cause side effects, such as eating conditions that come as a result of chemotherapy.
GRWC looks to be in a great position right now and numerous recent developments could lead to strong upside once again. Get started on your research now.
DISCLAIMER PLEASE NOTE: This GRWC stock report, blog, and any reposts on the TRADDR network are part of  a commercial advertisement and is for general information purposes only. All content  is for informational purposes only and should not be construed as an offer or solicitation of an offer to buy or sell securities. Neither the information presented nor any statement or expression of opinion, or any other matter herein, directly or indirectly constitutes a solicitation of the purchase or sale of any securities. Readers should always consult with a licensed securities professional before making any type of investment decision.  Please be aware that TRADDR was compensated Two Thousand Five Hundred Dollars from a 3rd party (DF Media) to assist in the creation and dissemination of GRWC media and social network advertisements and/or corporate updates.