If the Stock Market is one Big Casino – Who says the house always has to win?
This is your chance to profit off the Casino rally with this revenue producing, growth oriented VIP Player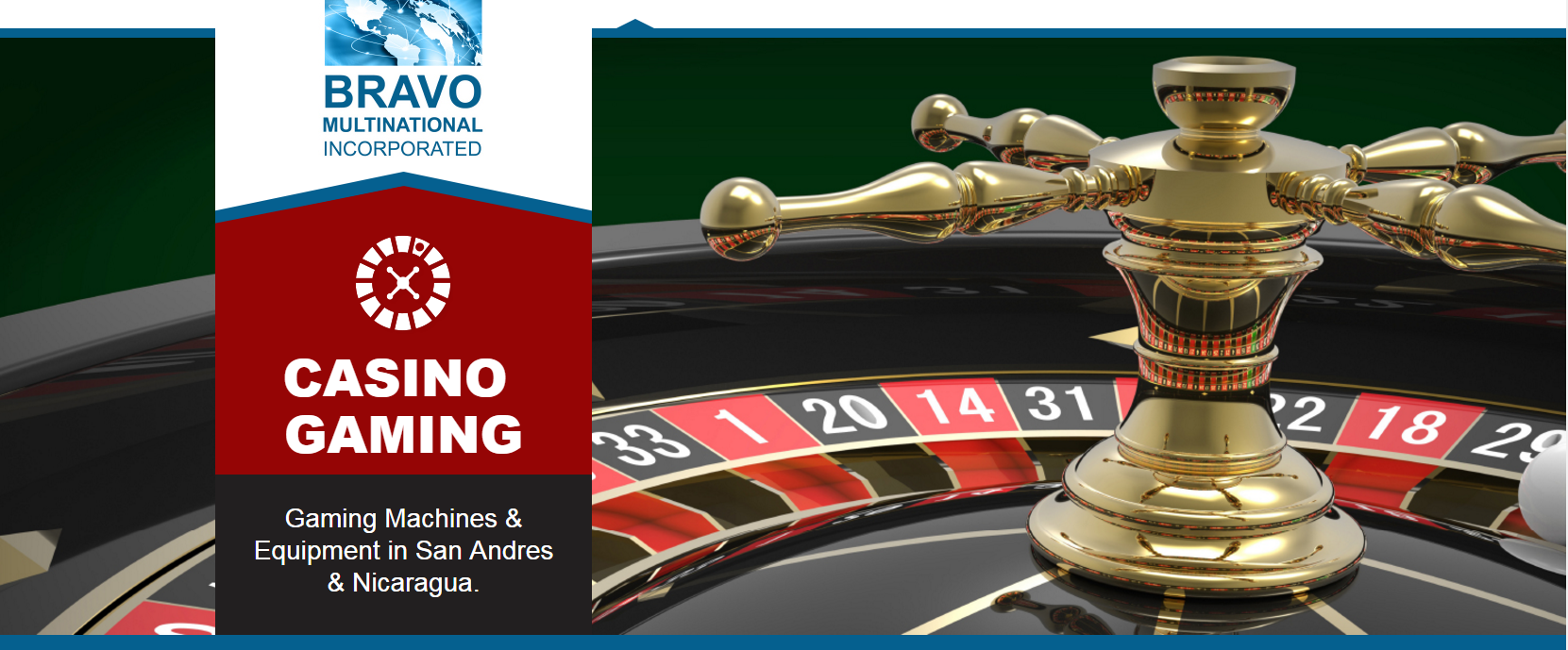 Imagine making 7.5% net return per machine in a busy casino?  What if you have over 5,000 machines?  Within

26-36 months

, you can realize pure profit.
This is not a Vegas mirage – it's a Reality for one innovative microcap.
Bravo Multinational Inc. (Symbol:

BRVO

)
BRVO is a diversified Company, with its main focus on the development and expansion of the Casino Gaming Equipment holdings and business related activities in Central and South America, specifically Nicaragua, El Salvador, and San Andres, Columbia.
BRVO also has gold/silver mining properties and claims in North America. Bravo's growth strategy, driven by partnerships, acquisitions, and new ventures should result in financially viable and profitable corporate divisions.
BRVO has the potential to generate significant sales over the next several years. The Company operates a casino gaming business in Nicaragua. As a travel destination, Nicaragua is regarded as the "next Costa Rica," and the country's tourism industry is expected to grow 8.8% annually over next decade.
BRVO is selling slot machines and video poker machines which are being placed in hundreds of restaurants and bars throughout Nicaragua. All machines are to be operated and managed under a long-term country-wide national license valid until 2033
BRVO actively seeks to secure licensing for betting house gambling in El Salvador. With current operations and anticipated expansions into multiple locations throughout Central America and South America, BRVO in 2017 expects to have robust casino gaming operations.
There is Tremendous Growth Potential in Latin America. And BRVO is already capitalizing on it.
Don't believe us?  Check out the video below:
Still not convinced? Check out this interview with the CEO Paul Parliament
INVESTMENT HIGHLIGHTS
BRVO generates revenue from casino gaming business venture in Nicaragua

BRVO purchased 150 of a total contracted 500 slot machine and video poker gaming machines from Centro De Entretenimiento y Diversion Mombacho S.A., located in Managua, Nicaragua
BRVO profits from the sale of purchased slot machines

The Company's cost per machine is $4,500, and based on historical data, the retail value of each machine placed in the vendor location is approximate $7,000

Bravo hopes to reach $3.5 million in sales targets in 2017

The company also receives a 7.5% administration fee per month from each sold machine
The World Travel & Tourism Council (WTTC) predicts an 8.8% annual growth in tourist spending in Nicaragua over the next decade

The report indicates that the country's GDP is expected to grow by 5.8% annually by 2024
BRVO Purchased $2.3 million worth of gaming equipment in San Andres, Columbia

The Company seeks to lease these existing gaming equipment assets to an established casino operator with an anticipated lease rate of approximately $40,000 US/month
The Company is negotiating to purchase the rights of two gaming licenses in El Salvador

The licenses are for betting house gaming in the capital city of San Salvador

Projected income to be approximate

$20,000US/ month.
BRVO contracted Gametouch, LLC to manage its gaming machine sales.

Bravo Multinational, Inc.'s management has firmly positioned the Company within the high-growth casino gaming business throughout Latin America.
DID YOU MISS THE RECENT PRESS?
This is a company going to "Any Lengths" for growth!
Bravo Multinational Incorporated reports on the completion of the purchase of the "Operational Rights" of TWO (2) land-based "Gaming and Betting Licenses"
 BRVO's INTERNATIONAL BUSINESS IS EXPANDING
On October 11, 2016, Bravo Multinational Incorporated completed the transaction in El Salvador – Central America. These licenses located in two separate municipalities in the Capital City of San Salvador are very rare and unique and are quite difficult to obtain without significant political connections. Bravo's management worked with the El Salvadoran associates for the past year to plan this new business venture.
Paul Parliament, CEO, states, "Bravo's management is excited to begin this long anticipated business venture in San Salvador, El Salvador. This country has made significant progress in its efforts to attract international business, resulting in major advancements in technology, service industries, and ultra-modern shopping centers (to mention a few), that would rival many in North America. The many people we have met are welcoming and eagerly willing to assist in Bravo's business advancement. I would like to thank them all for their cooperation and commitment."
The Company will license these "Operational Rights" to new franchise style 'Gaming' operations, for which Bravo will receive monthly royalty style revenues. These 'Gaming' locations will facilitate a variety of international sports betting and slot/video 'Gaming' venues. BRVO also expects to add two more additional locations in the first quarter of 2017, plus plans to acquire additional licenses as they become available.
Management anticipates this new business foothold in El Salvador will lead to many future business ventures for BRVO. Once the first two intended locations have been inspected and approved, management will provide an update on these 'Gaming' locations. A US SEC FORM 8-K file is forthcoming giving full closing details.
To read up on

BRVO

press, click here immediately!
BRVO is trading at a microscopic market cap of slightly less than $7.0M Capitalization.  This is a company with revenue and international expansion – not startup.
BRVO traded nearly 7.8 Million shares in Tuesday's Trading.  This indicates investor interest is brewing and marks a significant increase vs the prior trading day.
BRVO MACD is pointing upwards which indicates potential for a move higher.  This may be one for the record books.
BRVO traded as low as $0.0106 three weeks ago, and on October 3rd they hit $0.0325 for a move of 200%!
Could BRVO be our next monster gainer? 
The time to Act is Now
Start your Research on BRVO ASAP
DISCLAIMER PLEASE NOTE: This BRVO stock report, blog, and any reposts on the TRADDR network are part of  a commercial advertisement and is for general information purposes only. All content  is for informational purposes only and should not be construed as an offer or solicitation of an offer to buy or sell securities. Neither the information presented nor any statement or expression of opinion, or any other matter herein, directly or indirectly constitutes a solicitation of the purchase or sale of any securities. Readers should always consult with a licensed securities professional before making any type of investment decision.  Please be aware that TRADDR expects to be compensated Two Thousand Dollars from a 3rd party (Global Investments Advisors, Inc.) to assist in the creation and dissemination of BRVO media and social network advertisements and/or corporate updates through the TRADDR Social Media Network.