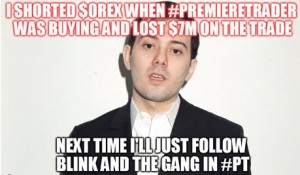 Shkreli's biggest blunder was an enormous short position in Orexigen Therapeutics , a La Jolla biopharma firm with an obesity drug. Shkreli shorted 32 million shares of Orexigen on Feb. 1, 2011, when it was trading about $2.50 per share.
This was a massive bet that it would fall from there. But what was curious about this trade was that Orexigen shares had just taken a huge hit, falling from $9.09 the day before, when the Food and Drug Administration had issued a report questioning the obesity drug's cardiovascular safety. Shkreli, in other words, shorted at the low. Orexigen bounced back, gaining more than 50% from its lows over the next few days and ending the month up more than 30% from where Shkreli had shorted. Because short-trades lose money when the stock rises, Shkreli's trade was blown to smithereens.
Worse, according to the SEC, Shkreli had misrepresented to Merrill Lynch that he had "located" the shares to short. (Technically, short-sellers are supposed to borrow shares that they're selling; in practice, they need not have these shares in hand, only to know where they can borrow them if they have to. Shkreli said he'd done the "locate," but Merrill Lynch found that he hadn't, the SEC says.) In the event, Merrill Lynch had to cover Shkreli's short itself, allegedly at a $7-million loss, which it was trying to get back from Shkreli.
Meanwhile….as Shkreli was shorting $OREX, #PremiereTrader chat room was buying!
Session Start: Tue Feb 01 03:01:59 2011
Session Ident: #premieretrader
[03:01] * Now talking in #premieretrader
[03:01] * Topic is '#PT Is THE Best Site for Active Traders Because WE GET 'EM THE EARLIEST'
[03:01] * Set by bucko on Fri Dec 03 10:41:54
[06:02] * ChanServ sets mode: +o Blink
[06:10] <bobby44> hellooo
[06:10] <storm1> gm
[06:11] <f57> first one in buys everyone breakfast
[06:11] <f57> thanks bobby
[06:12] <bobby44> what would u like
[06:12] <bobby44> how about a scotch and soda
[06:12] <plti> 2 scrambled, grits with butter, country ham, biscuits with gravy, black coffee, small oj
[06:13] <bobby44> i see u are on a low fat diet
[06:14] <plti> 🙂
[06:14] <bobby44> if thats a southern breakfast no wonder the average dress size of US women is 16
[06:18] <lucas> lol
[06:20] <quag> lol
[06:36] <quag> BP lil disappointing
[06:37] <storm1> [06:12] <plti> 2 scrambled, grits with butter, country ham, biscuits with gravy, black coffee, small oj<<<<i want some
[06:41] <plti> cnbc been talking commodity inflation for awhile …. the stealth inflation going on across america now that is slamming people hard is monthly electric bills
[06:42] <quag> noticed the higher food prices for first time yday, value deflation getting more rampant
[06:42] <bobby44> the Fed says there is no inflation
[06:43] <quag> rice went limit up yday, expect new 52wk highs this morn
[06:43] <storm1> first time my wife started using coupons
[06:43] <storm1> was this week
[06:44] <plti> in the midatlantic region electric bills are going crazy….are u guys seeing this in your part of the country
[06:44] <bobby44> this comodity inflation at a business cycle low is rare
[06:44] <bobby44> happened in the 70's though
[06:44] <bobby44> so imagine when economy picks up
[06:44] <quag> i'm sure we'll see it in south once a/c gets turned on again
[06:44] <plti> regular houses 3500 sq ft paying like 500 to 700 a monthy
[06:44] <plti> month
[06:44] <plti> its crazy
[06:45] <plti> i dont know what fixed income people are doing
[06:45] <storm1> im in NY i pay 175 a month NOW
[06:45] <plti> count your blessings
[06:45] <storm1> i do
[06:45] <storm1> but my RE taxes are 28,000 a year
[06:45] <plti> aha
[06:45] <storm1> I AM BLESSED huh
[06:45] <plti> lol
[06:46] <plti> hey man blue states hi taxes
[06:46] <storm1> id like to take this broom handle…..oh nevermind
[06:46] <Fatman> pay well over $1k a month
[06:46] <bobby44> southern states getting same problems with entitlements
[06:46] <plti> where are u fatman?
[06:46] <Fatman> but prob 250 of that is my office
[06:46] <Fatman> dc area
[06:46] <plti> yup
[06:47] <bobby44> neth heads and 17 year old kids have kids
[06:47] <storm1> jeeze
[06:47] <Fatman> computers servers and etc
[06:47] <plti> 1k i am hearing alot
[06:47] <storm1> 1000 a month for elec, thats nuts
[06:47] <plti> i am even hearing 1.4k and i am not talking mansions
[06:47] <plti> storm i am telling man its getting crazy around here
[06:47] <bobby44> in some states income is so low u cant get blood from a rock
[06:47] <bobby44> like Missisipi
[06:48] <plti> i am my wife are good friends with my districts congressman
[06:48] <plti> we had a long talk about it
[06:48] <plti> its stealth issue right now
[06:48] <plti> real horror stories going on
[06:49] <bobby44> cost of coal doing it ?
[06:49] <plti> dont know
[06:49] <bobby44> nat gas still cheap
[06:49] <plti> in our area we have great diversity
[06:49] <bobby44> very few olants use oil
[06:49] <plti> nuke gas coal hydro
[06:49] <bobby44> plants
[06:49] <storm1> i asked school super, what he intends to do with all the empty homes
[06:49] <storm1> he hung up on me
[06:50] <bobby44> what does he have to do with the houses
[06:50] <storm1> school taxes
[06:50] <ricl> this is exactly what solar needs to get going
[06:50] <ricl> 1K+ electric bills
[06:51] <bobby44> if a roof lasts 20 years how long do these panels on the roof last
[06:51] <ricl> not sure, always wondered that myself
[06:52] <bobby44> in northeast they last 20 maybe longer other places
[06:53] <bobby44> if there is no workout of sucession in Egypt i wonder if they call a general strike
[06:53] <quag> kaufman BIDU tgt $142
[06:54] <ksh> big front page ibd write up BIDU
[06:54] <ksh> quotes kaufman analyst
[06:54] <quag> ty
[06:55] <storm1> Ascent Solar Technologies (ASTI) a developer of flexible thin-film solar modules, announced today that Polymeur Sun will act as an Authorized Reseller of Ascent Solar's lightweight, flexible, high-power thin-film CIGS modules for building integrated (BIPV), and portable power solutions in Singapore and Malaysia
[06:59] <dougs305> PCX beats by 0.43 misses on rev
[07:00] <bobby44> OREX halt
[07:01] <Blink> CRL
[07:01] <Blink> new trial
[07:01] <Blink> ah shit
[07:02] <Blink> not good
[07:02] <Blink> worst case i think
[07:02] <Tomlong> that going to affect the other plays
[07:02] <Blink> chop chop
[07:02] <Blink> cardio safety is the issue
[07:02] <Blink> that is bad
[07:03] <bobby44> yep bad
[07:05] <win> just another storm this morning
[07:06] <Blink> OREX gonna get crushed
[07:07] <lucas> ARNA VVUS could fly a bit
[07:07] <Blink> OREX Pretty much done
[07:07] <Blink> VVUS if they smack im buying
[07:08] <Blink> SAC just went in big OREX
[07:08] <Blink> gonna get vaporized
[07:11] <ksh> GLUU looking perky
[07:12] <ksh> 7:30 open OREX
[07:13] <Blink> VVUS lead fatty again
[07:16] <Blink> this is a fatty drug
[07:17] <Blink> if it were a chubby drug approved instantly
[07:17] <win> did anyone get stuck with orex?
[07:19] <win> sure seems like the fda likes the plan diet
[07:23] <bobby44> OREX they have any other drugs ?
[07:23] <Blink> OREX 2.11 in cash i think
[07:24] * bcannon has left #premieretrader
[07:25] <bobby44> nope about a buck
[07:25] <Brodo> OREX has one other drug, also for obesity http://www.orexigen.com/candidates/default.php
[07:25] <Blink> 100m in cash
[07:26] <Blink> 2.11
[07:26] <bobby44> i show 84 mil shrs out
[07:26] <verona> 48 mil
[07:27] <verona> float 26 mil
[07:27] <Blink> OREX 4.50\
[07:27] <Blink> new trial gonna burn that 100m fast
[07:27] <bobby44> yep u r right
[07:28] <bobby44> 48 mil
[07:28] <quag> Dow's Best January in 14 Years, http://www.cnbc.com/id/41356782
[07:30] <Blink> 4 prints
[07:31] <dwgooden> yikes
[07:33] <Brodo> "No, Leon. The rug looks completely natural. No one will be able to tell"
[07:33] <Blink> is that a hat?
[07:33] <Blink> yamaka?
[07:33] <Brodo> lol
[07:34] <Brodo> at least splurge for a white rug so it matches the sides
[07:34] <dwgooden> nah man its all about settin trends
[07:37] <Blink> OREX trading down to cash
[07:37] <morgan99> how about his stk recos: ahd and etfc
[07:37] <ksh> DIARY – S&P 500 Corporate Earnings for month ahead http://v.gd/UK8T6p
[07:37] <Blink> then just a broken POS
[07:37] <morgan99> thosewere the 2 i heard
[07:37] <morgan99> aside tbt i guess
[07:38] <morgan99> orex plunge 70 pc
[07:41] <quag> BP recovering some, HES bad #s meant a 12% bounce in stock
[07:42] <Blink> OREX 1st bounce attempt
[07:43] <Blink> -80% from my exp alwasys seems to hold
[07:44] <JRW2> CAT USES TOILET THEN FLUSHEShttp://www.youtube.com/watch?v=t8WXssbcdn4&NR=1
[07:44] <AnnaInVA> gm roomies
[07:44] <k7> OREX where is the bounce?
[07:44] <bobby44> FBI warns Al Qaeda may be planning attacks against Wall Street Executives – update
[07:44] <bobby44> Have Market Intel? TradeTheNews.com Tip Line -> Click Here
[07:44] <verona> 1.5's
[07:45] <dwgooden> coco
[07:45] <Blink> COCO #s
[07:46] <dwgooden> why is armh up on those #s
[07:46] <duck> Google exec missing in Egypt, scrolled bloomberg
[07:47] <dwgooden> i guess theyre the underprmose over deliver type
[07:47] <quag> BIDU a/h highs 118.5 yday
[07:51] <Blink> OREX base attempt @ -75%
[07:51] <silver> good morning
[07:51] <Blink> SAC just bot OREX
[07:52] <Blink> what a thing to wake up to
[07:55] <win> blink cohen wakes up to a 5 billion doallr net worth
[07:55] <win> he burbed
[07:55] <BobbyM> gm boys
[07:55] <Blink> its about winning for guys like that
[07:56] <JRW2> LVS 02/01/2011 06:18 DJ UPDATE: Macau January Gambling Revenue Up 33% On Year At MOP18.57 Bln
[07:58] <Blink> even MNKD had a bounce
[08:01] <spiderman> OREX, ouch
[08:01] <M3Trader76> OREX damn. Didnt FDA panel recommend approval too?
[08:02] <dantes> PLUG sold some more fuel cells
[08:02] <dwgooden> ritt loss
[08:02] <dwgooden> booooo
[08:03] <solomon12> yep, on the 9th
[08:03] <Blink> ugh could of been a contenda
[08:03] <Blink> SIMO huge #s and guidance
[08:03] <Blink> 1-Jan-11 18:10 ET In Play Silicon Motion beats by $0.09, beats on revs; guides Q1 revs above consensus; guides FY11 revs above consensus (5.56 +0.26) : Reports Q4 (Dec) earnings of $0.18 per share, excluding non-recurring items, $0.09 better than the Thomson Reuters consensus of $0.09; revenues rose 77.8% year/year to $40 mln vs the $34.5 mln consensus. Co issues upside guidance for
[08:03] <Blink> Q1, sees Q1 revs flat to down 10% sequentially, which calculates to ~$36-40 mln vs. $31.33 mln Thomson Reuters consensus. Co issues upside guidance for FY11, sees FY11 revs growth of 20-30%, which calculates to ~$158.9-172.1 mln vs. $142.60 mln Thomson Reuters consensus.
[08:03] <Blink> SIMO NAND flash
[08:03] <Blink> AA great chart setup
[08:03] <dwgooden> hot sector
[08:03] <Blink> OREX bouncing some
[08:04] <dwgooden> re SIMO
[08:04] <dwgooden> and the #s to back it up
[08:04] <Blink> fo rsure
[08:05] <Blink> 08:05 BQI Oilsands Quest appoints Garth Wong President and CEO
[08:05] <Blink> …
[08:05] <Blink> nice name
[08:05] <quag> DJ Cummins 4Q Profit Up 34% On Sales To China, India >CMI
[08:06] <dwgooden> real name : GooGoo…call me 'Garth'
[08:06] <Blink> lol doh
[08:06] <quag> lol
[08:09] <dwgooden> GENE no pr yet?
[08:11] <quag> LEA nice #s
[08:12] <Blink> no GENE
[08:14] <Blink> SIMOn says 'higher"
[08:14] <deepvelvet> CCME world of pain
[08:15] <rayban123> "house of pain"
[08:15] <rayban123> holy smokes OREX
[08:16] <rayban123> newbies getting schooled
[08:17] <morgan99> jordans pm resigns
[08:18] <rayban123> ISM Mfg index @ 10am ET, Construction spending @ 10am ET
[08:18] <jay> wow morgan
[08:19] <dominoes1> anyone in here subscribe to biorunup.com?
[08:19] <Jimmy_No-Nose> oh boy lets start the hand wringing
[08:19] <ksh> AMD Advanced Micro upgraded to buy from neutral at Sterne, Agee (7.83)
[08:19] <ksh> Target is $15. The firm believes AMD is near a cyclical fundamental bottom in market share and says the installation of a new CEO over the next few months could be another positive catalyst.
[08:19] <Knowfunn> Dom they had a tough day yesterday
[08:19] <JRW> imagine protestors with guns instead of sticks
[08:20] <rayban123> COCO #s out this morning
[08:20] <dominoes1> agreed, just hoping to view their report released this morning
[08:20] <bobby44> COCO beat actually
[08:20] <bobby44> but i dont know how important enrollment numbers are
[08:20] <quag> Corinthian Colleges beats by $0.01, beats on revs; guides Q3 EPS in-line, revs in-line (5.28 )
[08:20] <quag> Reports Q2 (Dec) earnings of $0.23 per share, $0.01 better than the Thomson Reuters consensus of $0.22; revenues rose 16.5% year/year to $482.8 mln vs the $476.1 mln consensus.
[08:20] <rayban123> good risk vs. reward from these levels
[08:20] <Knowfunn> subs weren't too happy
[08:20] <Knowfunn> http://www.investimonials.com/blogs/reviews-biorunup.aspx#700hpvette
[08:21] <rayban123> thx Quag
[08:21] <Forest1> COCO barks but will any one let it out
[08:21] <Jimmy_No-Nose> MTW huge
[08:21] <quag> np
[08:21] <f57> Do you know where I hope Carl Quantinilla is going tomorrow?
[08:21] <f57> to MSNBC.
[08:21] <Blink> lol
[08:22] <f57> *rimshot*
[08:22] <Blink> swishh
[08:22] <Blink> AA over .75 lites it
[08:22] <rayban123> actually NBG looks good from these levels
[08:23] <bobby44> those Biorunup guys are bad analysts
[08:23] <bobby44> just a bunch of kids that had some winners
[08:23] <Blink> VVUS big bounce as expected
[08:23] * ChanServ sets mode: +o Superman
[08:25] <Knowfunn> Blink why expected..I was shocked to see that
[08:25] <Blink> VVUS Lead fatty now
[08:26] <Blink> fda responded
[08:26] <Blink> concern is that the drug may effect prego women
[08:26] <Blink> so how many pregnant women do you know who take a diet drug?
[08:26] <jay> bio players put your money into AMRN
[08:26] <BobbyM> lol
[08:26] <jay> much easier route
[08:27] <Blink> OREX news is great for AMRN
[08:27] <Blink> more fatsos
[08:27] <Blink> will need AMRN drug
[08:27] <bobby44> how about Nutrisystem
[08:27] <jay> lol
[08:28] <Blink> nutrisystem if you like sodium coated pizza sticks
[08:28] <dwgooden> theyre gonn delay approving one of these drugs as long as possible
[08:28] <spiderman> too much work for nutrisystem. Everyone wants ease
[08:28] <dominoes1> the term "fatso" is no longer PC. Now they are referred to as Horizontally Challenged
[08:28] <dwgooden> lol
[08:28] <Blink> LOL
[08:28] <jobynimble> ok fatso
[08:28] <dominoes1> hahah
[08:28] <dwgooden> where is "horizontallychallengedMan"
[08:28] <dwgooden> we need another abkfq
[08:28] <jobynimble> 😉
[08:28] <d4ys> BIDU 125 coming today 🙂
[08:30] <dwgooden> cpst
[08:32] <silver> 02/01/2011 08:30 *DJ Capstone Turbine Corp Receives Order For First C200 In The United States To Run On Coal Bed Methane Gas From A Large Natural Gas And Coal Producer
[08:32] <spiderman> Keep your eyes on GENE. Expect something soon
[08:33] <Jimmy_No-Nose> MTW 16.43 52w hi..could test that today
[08:34] <Knowfunn> Andrew was right about that Northland Analyst..#1 pick CCME Mauled and Crickets…
[08:35] <morgan99> i love what steve case is doing
[08:36] <morgan99> start-up america
[08:36] <Forest1> NVLS new highs
[08:37] <TB-Dave> good morning
[08:38] <d4ys> ARMH what a sicko, shipped 1.8bln chips
[08:39] <f57> A leading member of the Muslim Brotherhood in Egypt told the Arabic-language Iranian news network Al-Alam on Monday that he would like to see the Egyptian people prepare for war against Israel, according to the Hebrew-language business newspaper Calcalist.
[08:40] <f57> that's the group that Erin Burnett is oogling over.
[08:40] <f57> next they'll come after us.
[08:40] <Manchester> Did you guys see the Haaretz piece in todays paper?
[08:40] <storm1> PLUG News http://finance.yahoo.com/news/Central-Grocers-Places-pz-3244734673.html?x=0&.v=1
[08:40] <BobbyM> oil that's the trade
[08:40] <ksh> Jerry Brown cites Egypt unrest to make case for tax hikes
[08:40] <ksh> http://latimesblogs.latimes.com/california-politics/2011/01/state-of-the-state-brown-cites-unrest-in-egypt-to-make-his-case-for-budget-vote.html
[08:42] <Jimmy_No-Nose> TEX, CAT, DE and TITAN are MTW followers, although CAT and DE been running for a long time now.
[08:44] <quag> all nice stocks, which do you like most?
[08:45] <d4ys> ARMH show me the monnaay
[08:45] <Jimmy_No-Nose> right now TEX and MTW..TITN is rather thin but makes big moves when active
[08:45] <d4ys> i wanna $30
[08:45] <dantes> ARMH beaute
[08:46] <k7> AAPL going higher on keyless keyboard?
[08:46] <d4ys> 1.8bln chips dantes, i can't get over that
[08:46] <Leo> good morning
[08:47] <k7> Indian shares on Monday posted their worst monthly fall in more than two years, tracking weak global markets as anti-government protests in Egypt led to risk aversion, with inflation and rate rise fears further dampening sentiment
[08:48] <Superman> I have no position in CCME (although I did nail original call 7 to 20 although took longer than typical play)………..however here is interesting spin on Citron:
[08:48] <Superman> http://investorshub.advfn.com/boards/read_msg.aspx?message_id=59385552
[08:48] <Superman> Rebuttle from Chinese investor
[08:48] <Superman> http://seekingalpha.com/instablog/217363-mark-situ/134559-china-mediaexpress-the-bus-you-should-not-miss
[08:48] <Superman> will be interesting to see how it plays out…….Citron may be right but they are not necessarily always correct or legit for that matter……they can play on fear very effectively
[08:48] <Superman> on CCME mgmt to respond strongly.
[08:48] <Superman> You should know by now that any China stock can get attacked like this so they are NOT long term holds imo……trade them
[08:48] <Superman> again no position in CCME since first run to 20's
[08:49] <lucas> http://finance.yahoo.com/news/RADVISION-Chosen-as-bw-419872906.html?x=0&.v=1
[08:49] <k7> Google Inc. (GOOG:$600.36,00$-0.63,00-0.10%) Chief Executive Eric Schmidt declined to discuss whether he would consider taking a job at Apple (AAPL:$339.32,00$3.22,000.96%) after he relinquishes the CEO title at the Internet company
[08:49] <k7> SChmidt moving to AAPL?
[08:49] <quag> ty TEX looks good
[08:49] <JT> good morn room
[08:49] <Superman> gm
[08:50] * gscrash has left #premieretrader
[08:50] <k7> If Eric Schmidt is announced as Jobs successor, AAPL can melt up
[08:51] <d4ys> don't forget about baby baidu SINA today, should see 52w break
[08:51] <dantes> would they even allow a top exec to go to rival?
[08:52] <Knowfunn> YOKU bouncing pm could be right back to 35 by Friday
[08:54] <JRW> 02/01/2011 07:46 DJ FBI, NYPD Warn Wall St Banks Of Possible Terror Threat -Report
[08:54] <JT> Fault Lines: Ride of the Valkyries http://dlvr.it/FYg2M
[08:55] <k7> Usual competitive clause contracts doesn't apply for major executives
[08:57] <M3Trader76> AGRO gonna pop again today
[08:59] <rex1> BEXP 30
[08:59] <ksh> BlackRock Chairman Larry Fink: Agriculture and water assets to be top investments in the next 10 years – The Australian
[09:00] <bulman> opk acquisition
[09:00] <k7> mobile advertising software firm Velti (VELT) was the best performer, ending the day up 30%. Velti is the world's largest independent and integrated player in the space and expects rapid growth as brands turn to mobile advertising for a way to effectively target consumers around the clock.
[09:01] <d4ys> will be a great day for AMD
[09:01] <f57> Michel Barnier, internal-market commissioner for the EU, said France, which is holding the Group of 20 presidency, should use its position to push through a "Tobin"-style tax on financial transactions worldwide. "I personally consider this to be the right idea," Barnier said. France's agenda for its presidency includes addressing commodity-price swings, economic-governance rules and monetary issues
[09:01] <f57> Barnier urges France to push through global transaction tax
[09:03] <morgan99> who is barnier
[09:03] <dwgooden> some frog
[09:03] <storm1> LOL
[09:03] <morgan99> france not in charge of the world
[09:03] <lucas> RVSN http://www.businesswire.com/news/home/20110201005393/en/RADVISION-Chosen-Video-Enabled-Unified-Communications-Company-Year
[09:04] <morgan99> im a francophile and francophone
[09:04] <deepvelvet> CCME gonna put out PR soon? should be good fun
[09:04] <lucas> erin I love u
[09:04] <dwgooden> i like john Franco
[09:04] <dwgooden> that count?
[09:04] <lucas> lol
[09:05] <BobbyM> Franco Harris here
[09:05] <morgan99> but keep them out of business and war
[09:05] <morgan99> it is not their forte
[09:05] <bulman> huge short ccme.. anything from company should help
[09:05] <dwgooden> the judge!
[09:05] <deepvelvet> i liked franco the dictator
[09:05] <rayban123> Visa has begun trials of an iPhone-based mobile payment system in Europe, Computerworld reports. The trials, which started today, require on-device software to be installed on testers' iPhones, as well as a hardware accessory that contains an NFC chip. Visa's solution also requires retailers to install a hardware terminal capable of processing the mobile payments. Apple is expected
[09:05] <rayban123> to add native NFC capabilities to its next-generation iPhone, which means users would not have to attach any additional device to their phones in order to pay for goods and services
[09:08] <rayban123> CardioGenics to Continue Commercialization of its Magnetic Beads with Merck Chimie SAS. http://finance.yahoo.com/news/CardioGenics-to-Continue-prnews-456965671.html?x=0&.v=1
[09:10] <deepvelvet> POT 180
[09:11] <d4ys> POT split is mid-feb right?
[09:11] <miller> magnetic beads?
[09:13] <deepvelvet> dunno on POT
[09:14] <lucas> VVUS -10%?
[09:14] <rayban123> NBG, Greeks getting drink some ouzo opa!
[09:14] * investhebest has left #premieretrader
[09:17] <steeledge> SUF offering
[09:20] <dwgooden> fcel cpst plug all news
[09:20] <JT> Crosshair Exploration & Mining Corp (CXZ:AMEX) formed bullish "Continuation Wedge" chart pattern http://ow.ly/3O3Wt
[09:21] <dwgooden> coincidence or are these guys seeing an uptick finally
[09:21] <lucas> cnbc on OREX
[09:21] <dwgooden> why does cnbc care so much bout orex
[09:21] <BobbyM> no idea
[09:21] <spiderman> AGRO, very nice continuation.
[09:22] <dwgooden> one tiny lil biotech with a failed drug
[09:22] <dwgooden> so what
[09:22] <plti> GE and MU held up well during musbro fri/mon looking for push today
[09:24] <cat> dw they aren't allowed to buy stocks so they love bad news
[09:25] <dwgooden> ccme
[09:25] <JT> Market talk of a stronger than expected ISM Manufacturing headline of 60.5 vs. Exp. 58.0
[09:26] <d4ys> CCME defense
[09:27] <dominoes1> AGRO 13's
[09:27] <jay> AGRO 13s hot farmland play of 2011.. only one of its kind public bring on the momentum players
[09:28] <JT> TQNT moving
[09:28] <rayban123> Visa brings contactless payments to Euro iPhones, dongle required for now. With the app and the dongle users can start trying out phoney payments at various NFC-enabled terminals in Europe, presumably ahead of the release of a proper NFC-supporting iPhone sometime in the coming months
[09:28] <dominoes1> 13.40 AGRO holy ipo batman
[09:28] <Knowfunn> lol Thanks a pant-load..Orexigen downgraded to Neutral from Outperform at Cowen
[09:29] <dwgooden> dongle?
[09:29] <dantes> this NFC story just grows by the day
[09:29] <rayban123> Dongle <——– word of the day
[09:29] <TB-Dave> yes, as opposed to a dingle
[09:29] <dwgooden> heh
[09:29] <dougs305> in ccme
[09:29] <TB-Dave> 🙂
[09:29] <spiderman> GENE will go today, watch.
[09:29] <rayban123> http://www.engadget.com/2011/02/01/visa-brings-contactless-payments-to-euro-iphones-dongle-require/
[09:29] <dantes> dongle is just that sticker with NFC chip in it
[09:29] <miller> who makes this "dongle"?
[09:30] <dantes> prolly NXPI/STM
[09:30] <rayban123> Miller, google it
[09:30] <JT> Retail Sales Up 1.8% in Jan. 29 Week http://bit.ly/e7MDvG
[09:30] <win> solars getting so ready
[09:31] <win> flsr thin film again
[09:31] <rayban123> CAVM strong
[09:31] <Blink> AMRN nice
[09:31] <mull> simo
[09:32] <bh> TCCO poised to run today
[09:32] <dougs305> MEE eps today
[09:32] <dantes> http://www.otiglobal.com/Payments%20Product%20overview
[09:32] <dantes> they work with Visa, could be OTIV!?
[09:32] <Blink> SIMO huge #s and guidance
[09:32] <lucas> SIMO nice taiwan play
[09:33] <Knowfunn> banging head on table for not buying FCX 105 calls last wekk
[09:33] <RichJr> out 25% AGRO with 1.
[09:33] <RichJr> 1.6
[09:33] <rayban123> IDTI news yesterday
[09:33] <JT> UPS gaps up to 52 week high
[09:33] * Blink buys AA
[09:33] <verona> man CCME
[09:34] <TB-Dave> MOBI
[09:34] <d4ys> SINA awesome
[09:34] <d4ys> i want a run to $100
[09:34] <verona> fnma,fmcc strong again
[09:34] <rayban123> IDTI http://www.bizjournals.com/sanjose/news/2011/01/31/idt-posts-106m-profit-in-q3.html?ana=yfcpc
[09:34] * RichJr loing CCME 16.48
[09:35] <d4ys> BIDU could look for a dunk before trying to move higher
[09:35] <dantes> AA b/o
[09:35] <deepvelvet> not much of a defense by co. CCME
[09:35] * rayban123 Ksh, did you read IDTI report?
[09:35] <RichJr> ok…and out half +40c
[09:35] <RichJr> geesh
[09:35] <revv> In SIMO
[09:36] <ksh> tricky idti
[09:36] <Blink> ARMH very nice
[09:36] <BobbyM> AMD ready
[09:36] <win> FSLR thin fim
[09:36] <spiderman> OREX, nice bounce
[09:36] <steeledge> USAT nice
[09:36] <RichJr> out the rest with 30
[09:36] <lucas> GLUU hod
[09:36] <revv> SIMO 7 challenge
[09:36] <momo_> USAT been basing a few days. Its ready.
[09:36] <rayban123> IDTI on breakout watch. volume today should be strong
[09:37] <Blink> ARMH coming on Mad money
[09:37] <Blink> all day pumpa
[09:37] <Blink> Cramer will be spitting
[09:37] <JT> VTR halted
[09:37] <win> FSLR trying for breakout
[09:37] <dantes> FMCC FNMA could rip here
[09:37] <JT> GOOG Finally
[09:37] <duck> GLUU me
[09:37] <verona> adds ABKFQ
[09:37] <RichJr> out more MOBI + $1.05
[09:38] <dantes> GLUU trying to b/o
[09:38] <verona> ABKFQ maybe 0.25-0.26 today , could be nice b/o towards 0.30's
[09:38] <rayban123> IDTI higher highs. hello seven dollars here is the eps report and guidance —-> http://finance.yahoo.com/news/IDT-Reports-Fiscal-Q3-2011-bw-2477358719.html?x=0&.v=1
[09:38] <Blink> AA nice
[09:39] <verona> ABKFQ 0.22
[09:39] <RichJr> out 40$ AMD +32c
[09:39] <RichJr> 40%
[09:39] <d4ys> BIDU here comes the dip
[09:39] <RichJr> CCME nice bounce
[09:40] <glfr4130> dougs…great call on MEE…you have been on that for months congrats
[09:40] <rayban123> IDTI $7.20s current 52wk high
[09:40] <dougs305> nice glfr4130 ty
[09:41] <rayban123> CAVM get ready
[09:42] <Blink> ARMH oh my
[09:43] <JT> SPRD still explosive.
[09:43] <lucky1> OTIV more downage
[09:43] <JT> PCX broke out 52wk high
[09:43] <digitaltrader> buying OTIV here
[09:43] <RichJr> u short that lucky?
[09:44] <dougs305> coal stocks on fire
[09:44] <lucky1> no just watching
[09:44] <dwgooden> fnma fmcc non stop
[09:44] <digitaltrader> more iPhone NFC news out
[09:44] <lucky1> was expecting bad news on that drop from 4
[09:45] <Blink> TA my God
[09:45] <d4ys> better off selling BIDU to buy SINA here, its poised for better growth, and its the china social play
[09:45] <dantes> NXPI breaking out too
[09:45] <rayban123> DRAM massive volume yetserday
[09:46] <steeledge> china social media is a good part of MOBI's story too, thru maopao
[09:46] <d4ys> SINA $105 march calls big potential
[09:46] <momo> USAT may juice up here on NFC momo
[09:46] <lucas> HERO gonna fly
[09:46] <rayban123> ISM Mfg index @ 10am ET, Construction spending @ 10am ET
[09:47] <steeledge> GENE starting to perk
[09:47] <Blink> TA massive on the news
[09:47] <spiderman> GENE, taking off. Needs to break $3.30's
[09:48] <revv> SIMO hitting the Golden Dongle
[09:48] <Blink> GENE psycho could go to 6+ in a flash
[09:48] <quag> very nice call on TEX jnn
[09:48] <Blink> SIMP perfect
[09:48] <Blink> SIMO
[09:48] <timers1> ss TA 7.9
[09:48] <Blink> does my butt look big in these GENEs?
[09:48] <JT> lol blink
[09:49] <steeledge> yes
[09:49] <MrBill> a little
[09:49] <RichJr> i would expect GENE can do better now than yesterday
[09:49] <RichJr> much
[09:49] <revv> Out SIMO 7.19
[09:50] <bucko> icgn on watch chart
[09:50] <d4ys> NXPI gonna get going here
[09:50] <spiderman> GENE gearing up. I'm thinking a quick move to $4
[09:51] <rayban123> ok
[09:51] <mull> bucko nice
[09:51] <Blink> http://finance.yahoo.com/news/TravelCenters-of-America-LLC-bw-4122377600.html?x=0&.v=1
[09:51] <Blink> TA news
[09:51] <steeledge> surprised DARA not up on its news
[09:51] <Blink> love TnA
[09:51] * ptrader in DNN
[09:51] * rayban123 awesome Bucko
[09:52] <Blink> The total contractual rent payable by TA to HPT under these two leases currently is approximately $231.3 million/year (i.e., $165.1 million plus $66.2 million). Effective July 1, 2008, in consideration of the impact of market conditions upon TA's business, TA and HPT entered into a rent deferral arrangement whereby TA was permitted to defer up to $5.0 million /month of its combined
[09:52] <Blink> rents due to HPT through December 31, 2010, and that required the amount of any such deferred rent, plus any unpaid interest, would be due from TA to HPT on or before July 1, 2011. Pursuant to that agreement TA has deferred a total of $150.0 million of rent, and all interest due with respect to such deferrals has been paid through December 31, 2010.
[09:52] <JT> Rumors that Mubarak Stepped Down
[09:52] <lucas> link JT
[09:52] * ChanServ sets mode: +o Superman
[09:52] <JT> POT ripping
[09:53] <Jimmy_No-Nose> URRE may have a scalp in it
[09:53] <dwgooden> news
[09:53] <JT> NFLX dipping
[09:53] <dwgooden> price raise
[09:53] <dwgooden> dsti?
[09:53] <d4ys> ARMH lets gooo
[09:53] <rayban123> CMI selling
[09:54] <lucas> An estimated 1.8 million barrels a day of oil and refined products moved through the Suez Canal in 2009
[09:54] <dougs305> if that happens am jt markets goes
[09:54] <turbo> internals not backing this bounce so far
[09:54] * ChanServ sets mode: +o inmate
[09:55] <Blink> AA was a great setup
[09:55] <jay> POT makes me puke
[09:55] <rayban123> IDTI any questions?
[09:55] <revv> Nice flag on IDTI
[09:56] <lucas> HERO hod
[09:56] <JT> SPY blowin highs
[09:56] <quag> wow ES 1295, yday ES shorts vaporized
[09:56] <plti> ISM and Construction numbers in 3 mins
[09:57] <turbo> yea, should move markets
[09:57] <RichJr> CCME acting like it will fill that gap
[09:57] <RichJr> nice nice bounce
[09:57] <RichJr> CCME…case of Citron vs Forbes China
[09:57] <inmate> summertime is coming, nothing like a nice glass of lemonade
[09:58] <rayban123> IDTI check out the weekly chart
[09:58] <d4ys> out BIDU feb puts here
[09:58] <verona> IDTI 8 today Ray?
[09:58] <DVDKing> ARMH beauty d4
[09:58] <lucas> HERO hod
[09:58] <RichJr> nice tart taste inmate
[09:59] <rayban123> Verona, IDTI should b/o no problem imo
[09:59] <RichJr> late CCME scruntching their faces up
[09:59] <quag> ANR 🙂
[09:59] <inmate> south dakota has a bill out there to force everyone in the state to buy a gun
[09:59] <inmate> all 10 of em
[09:59] <d4ys> buys CCME 17.20
[09:59] <dougs305> nice quag
[09:59] <dwgooden> ADES 52 wker
[09:59] <ptrader> HERO SSN KOG hod
[10:00] <k7> oil sands on 60 minutes tonite
[10:00] <silver> 02/01/2011 10:00 *DJ US ISM Jan Manufacturing PMI 60.8 Vs Dec 58.5
[10:00] <bucko> nice bennie can keep foot on throttle
[10:00] <dwgooden> its tuesday k7
[10:00] <d4ys> NXPI nice, pop to $30 soon
[10:01] <JT> Dec. Construction Spending: -2.5%, vs. Cons. +0.1%
[10:01] <win> TA wow
[10:01] <simplex> GE
[10:02] <quag> long bond could get real ugly
[10:02] <jobynimble> win, DVDKing says that evey day
[10:02] <DVDKing> lol
[10:02] <shooter> WNR very nice past 2 days
[10:02] <lucas> HERO book value is around 8
[10:02] <shooter> WNR going to 14
[10:03] <DVDKing> ARMH looking at $27
[10:03] <verona> fnma,fmcc run
[10:04] <ptrader> SSN rocks
[10:04] <d4ys> ARMH real nice
[10:05] <windmill> OTIV vol
[10:06] <win> WASHINGTON, D.C.] – U.S. Senator Dick Durbin (D-IL) will address the annual meeting of the National Association of Independent Colleges and Universities (NAICU) TOMORROW, February 1, 2011 at the Hyatt Regency on Capitol Hill. Durbin will discuss the risk to Pell Grants and other financial aid programs that some for-profit colleges and poor quality colleges pose. He will also discuss the importance of meeting President Obama's challen
[10:06] <ptrader> HERO hod
[10:06] <lucas> Hercules is my HERO
[10:06] <inmate> too bad durbin has as much power as me in congress right now
[10:06] <inmate> they controlling everything
[10:08] <JT> INX Receives Cisco Customer Satisfaction Excellence Award http://conta.cc/dKGZCJ
[10:08] <cstrader> NBG major breakout
[10:09] <pbe> icgn +045
[10:09] <pbe> .45
[10:09] <d4ys> SOHU nice 5% move today
[10:09] <cstrader> nbg hasn't seen 2s in 3 months
[10:09] <cstrader> could be a big move coming
[10:09] <Knowfunn> YOKU as well d4
[10:10] <simplex> icgn running
[10:10] <ptrader> SSN push
[10:10] <MrBill> no favebook how DO they survive?
[10:10] <dwgooden> http://www.newswire.ca/en/releases/archive/February2011/01/c6703.html
[10:11] <ptrader> SSN vol
[10:11] <Superman> CCME hod
[10:11] <rayban123> gold silver selling
[10:12] <lucas> http://www.reuters.com/article/2011/01/28/precious-fund-idUSLDE70R0TH20110128
[10:12] <cstrader> here comes nbg
[10:12] <lucas> nice old news
[10:12] <cstrader> 2.5 target
[10:12] <DVDKing> ss SSN .92
[10:13] <Smart-Ticker> LULU powering
[10:14] <TIB> 70 degress yesterday now 35 – to 18 tonight – wth
[10:14] <quag> VIX vaporized
[10:14] <shooter> you in Texas TIB?
[10:14] <win> that is brutal
[10:14] <dougs305> SODA up yesterday and today
[10:14] <shooter> sounds like Texas weather
[10:14] <TIB> central tex
[10:14] <bucko> that is brutal
[10:14] <shooter> same here
[10:15] <dwgooden> win!
[10:15] <win> lol
[10:16] <shooter> MOBI vol took a dump
[10:16] <RichJr> USATA back to unchanged
[10:16] <RichJr> USAT
[10:16] <rayban123> IDTI you can not make this up
[10:16] <dwgooden> FCEL strong on news
[10:17] <ksh> AA long scan
[10:17] <lucas> HERO hod
[10:17] <spiderman> GENE no fail.
[10:18] <steeledge> good oral hyGENE is a good thing
[10:18] <Brinkley2> MBI hod
[10:19] <bulman> ccme almost green
[10:20] <M3Trader76> CCME options are insanely expensive too
[10:21] <rayban123> COCO eps #s this morning
[10:21] <M3Trader76> 15 puts are 1.35/1.50
[10:21] <d4ys> mkt huge meltup
[10:21] <RichJr> yep, and COCO now new highs..that says something doesnt it
[10:21] <plti> say goodbye 1300
[10:21] <dwgooden> COCO they gonna cover finally?
[10:22] <Blink> GENE 39c eps and HUGE rev growth
[10:22] <steeledge> word getting around blink; saw some blogs on it yest
[10:22] <dwgooden> gene freak out will ya
[10:22] <bucko> gene gene the dancing machine
[10:22] <shooter> WNR on fire
[10:22] <dwgooden> CDTI bottomed?
[10:23] <cstrader> watch for nbg break of 2.1
[10:23] <dwgooden> need a ferrarri blessing
[10:23] <dwgooden> alt energy hot
[10:23] <inmate> http://www.wwe.com/superstars/halloffame/inductees/geneokerlund/
[10:23] <rayban123> cnbc saying "Egypt non-event now". gold silver selling
[10:24] <dantes> FNMA FMCC hod
[10:24] <win> amazing fast conditions
[10:24] <ferrari> added to ENER swing this morning, dw
[10:24] <dwgooden> k
[10:24] <k7> Crude not sselling
[10:25] <storm1> OBCI ticking on low vol
[10:25] <inmate> even them jordan mofos protesting now
[10:25] <DVDKing> covers SSN +.07 looks strong someone buying
[10:25] <inmate> OBCI its not if but when at this point
[10:25] <ferrari> looking for a COCO-type run in ENER over the next few weeks..stops below $4
[10:25] <grouper55> in azzef .35
[10:26] <Blink> TA seems to be worth alot higher based on todays PR
[10:26] <Blink> i you have a RE leasing background
[10:26] <Blink> you may want to work up the #s
[10:28] <ferrari> EK analyst day on Thursday..still swinging this one w/ stops below 52 wk
[10:28] <shooter> WNR hod 13
[10:28] <dougs305> MEE @ ANR both look good
[10:28] <lucas> 250,000 protest over Egypt leader
[10:28] <lucas> (UKPA) – 1 hour ago
[10:28] <lucas> More than 250,000 people have flooded into the heart of Cairo, filling the city's main square in by far the largest demonstration in a week of unceasing demands for Egyptian President Hosni Mubarak to quit.
[10:29] <RichJr> COCO rug yank
[10:29] <inmate> DSTI may have some legs, float pretty low these days
[10:29] <DVDKing> COCO doin fine don't see no rug yank
[10:30] <RichJr> it shook off 18c in 15s……lot of monkeys on the limb
[10:31] <JT> Over $14 Trillion In Debt And The Market Loves It http://goo.gl/vWLrG
[10:31] <shooter> WNR wont stop
[10:32] <BobbyM> DANG back in the saddle
[10:32] <dwgooden> BCON take down
[10:32] <JT> 'Coming' Collapse of Commercial Real Estate Already Here, Says Davidowitz http://yhoo.it/hpFKLX
[10:33] <Jimmy_No-Nose> MTW closing in on major breakout area
[10:34] <dwgooden> CDTI possible reversal
[10:34] <Jimmy_No-Nose> EGPT is an Egypt etf fwiw
[10:34] <BobbyM> I'm playing GULF jimmy sh
[10:35] <JT> RFMD new HOD
[10:37] <bucko> satc lil perk
[10:37] <dwgooden> alt energy bucko
[10:37] <inmate> DSTI says solar low float mojo is back
[10:37] <win> coking coal palys rocking again
[10:37] <bucko> oh ya someone on cnbc week ago liked it
[10:37] <Smart-Ticker> PCLN lookn ripe
[10:38] <lucas> many drillers still too undervalued
[10:38] <bucko> asti had some news this am thin film
[10:38] <simplex> gene is trying
[10:38] <rayban123> Superconductor Technologies Inc. Produces 2G HTS Wire Samples For Superconducting High Power Transmission Cable, Fault Current Limiter And Wind Turbine Generator Applications. http://www.thestreet.com/story/10990951/1/superconductor-technologies-inc-produces-2g-hts-wire-samples-for-superconducting-high-power-transmission-cable-fault-current-limiter-and-wind-turbine-generator-appli
[10:38] <rayban123> cations.html
[10:39] <DVDKing> ARMH picking up steam
[10:39] <ksh> ACAT amazing
[10:39] <ptrader> DNN vol
[10:39] <k7> TAKING THE PULSE: European telecom companies are expected to report a spike in data revenue due to the rising popularity of smartphones and tablets
[10:39] <win> SCOK china coking moving
[10:40] <inmate> WEST – akeena solar, low price player w/ patent news this morn
[10:41] <lucas> HERO hod
[10:41] <inmate> OBCI nearing b/o levels
[10:41] <d4ys> buys some BIDU march calls
[10:42] <rayban123> Egypt crisis seems over. next crisis?
[10:42] <d4ys> ARMH nice and strong, bout to take down hods
[10:42] <lucas> over? u sure ray?
[10:42] <RichJr> bring up DOW 12k
[10:42] <revv> Really? Who won?
[10:42] <RichJr> bring it to us
[10:43] <RichJr> so that we may bask in its glory
[10:43] <storm1> DRWI startin
[10:43] <inmate> ask some folks in israel if they think the crisis is over, you may get a different story
[10:43] <octo> Zassssssssssssssssssssssssssssssssssssssssssssssssssssssss-+-+
[10:43] <ptrader> Ray buying on Denison mines DNN
[10:44] * RichJr slaps octo around a bit with a large trout
[10:44] <ptrader> PAL HERO hod
[10:44] <lucky1> AERL pop
[10:44] <octo> ———————————10
[10:44] <RichJr> click
[10:45] <jim> DNN very nice
[10:45] <octo> sorry cat on the keyboard
[10:45] <ptrader> HERO push
[10:45] <jim> LNG tp
[10:45] <jim> to
[10:45] <ptrader> PAL push
[10:46] <JT> no cats in PT pls
[10:46] <Blink> GM huge sales
[10:46] <Blink> wow
[10:46] <win> coal esp coking must have shortages with the storm
[10:46] <shooter> GM up 23% wowzers
[10:46] <Blink> double what street expected
[10:46] <Blink> my GOd
[10:46] <BobbyM> tgt 100 gm get that guy back
[10:46] <simplex> gm good earning
[10:46] <simplex> just reported on CNBC
[10:46] <dwgooden> do i smell a pair trade?
[10:47] <RichJr> go DOW 12k on that
[10:47] <d4ys> sell F buy GM
[10:47] <dwgooden> gm wow
[10:47] <BobbyM> added GM to core
[10:47] <Smart-Ticker> ULTA nice
[10:47] <d4ys> took $38 weekly calls .20
[10:47] <dwgooden> need a pullback
[10:47] <Tomlong> long AXL
[10:47] <dwgooden> morgan stanley call gonna work?
[10:47] <k7> GM the new NFLX?
[10:47] <Blink> nice idea Tommy
[10:48] <BobbyM> remember GM won't be paying taxes
[10:48] <Knowfunn> YOKU just insane
[10:48] <revv> IDSY on watch
[10:48] <dougs305> shake and bake MEE ANR
[10:49] <dwgooden> bobbym what was MS target?
[10:49] <BobbyM> 100
[10:49] <BobbyM> but 80 would be nice
[10:49] <dwgooden> MS said it not me
[10:49] <dwgooden> bought some
[10:50] <k7> GM Jan 2013 leaps only $3, are we talking GM target 100?
[10:50] <RichJr> BQI hod
[10:50] <k7> That was $50 strike
[10:51] <Smart-Ticker> i wonder how fast lulu hits 100
[10:51] <BobbyM> if GM hits 100, bucko will be able to sell his house
[10:51] <bucko> lol check
[10:51] <DVDKing> LVS nice
[10:52] <DVDKing> GM wrong way
[10:52] <plti> ECTE pump cnbc
[10:52] <k7> GM 100 in the which century?
[10:52] <f57> ECTE pump CNBC
[10:52] <Knowfunn> Bottom in EK.. finally?
[10:52] <f57> OTCBB stock
[10:53] <ksh> POT nhod
[10:54] <dwgooden> nice mention
[10:54] <momo> RPC upgraded. Nice writeup. http://www.baystreet.ca/users/newswire/viewarticle.aspx?id=391415
[10:54] <Minnow> OCZ nice
[10:54] <plti> gotta love the yuri
[10:55] <f57> ECTE 2.70
[10:55] <dwgooden> hate the yuri love the yoku
[10:55] <plti> only guy that comes on cnbc and gives a nice pump to a 19m floater bb
[10:55] <RichJr> BQI new hod
[10:56] <cheeeea> AUTC negative call on seeking alpha
[10:56] <cheeeea> http://seekingalpha.com/instablog/790526-theforensicfactor/134743-autochina-autc-the-most-preposterous-chinese-reverse-merger-yet?source=feed
[10:57] <Superman> AUTC besiness model is whacked looked at it before figured someone goes after it eventually
[10:58] <simplex> LPTN up
[10:58] <Blink> wicked AUTC bash
[10:58] <Fatman> autc frad?
[10:58] <Fatman> faud?
[10:58] <Fatman> fraud
[10:58] <cheeeea> i actually don't see autc mentioned in the article at all
[10:58] <cheeeea> sorry
[10:59] <cheeeea> was told it referred to autc
[10:59] <Blink> hmm
[10:59] <RichJr> BQI u see this right
[10:59] <turbo> SPX R3 at 1304 areaand open gap below
[11:00] <f57> ECTE 2.94
[11:01] <k7> SnP 1332 is a double from the 666 bottom from 2008
[11:01] <f57> +22.5%
[11:01] <RichJr> SSN money flowing into BQI….
[11:01] <dwgooden> autc is it in there or no?
[11:02] <Blink> story seems legit
[11:02] <Blink> but was pulled
[11:02] <dwgooden> mention autc?
[11:02] <Blink> huge bash
[11:02] <Blink> ya
[11:02] <dwgooden> wth
[11:02] <ptrader> INFN spike
[11:03] <win> ever china stock they seem to bash
[11:04] <RichJr> CNBC doing show on canadian oil tonight…..hearing that multiple places…
[11:04] <RichJr> SSN BQI…who else
[11:04] <win> rich i not sure of the day but i remember that last week like 60 minutes piece i think
[11:04] <win> they did for ad for this week
[11:04] <steeledge> the impressive thing to me about the china bashers is that they're even willing to target the ones that have big-4 accounting
[11:04] <rayban123> Win, Kung Hei Fat Choy!
[11:05] <RichJr> already know SSN and BQI…who else…come on folks dont tell us 20% higher
[11:05] <Fatman> shorting AUTC
[11:05] <Fatman> they pulled the article
[11:05] <win> CLF strong
[11:05] <RichJr> BQI taking out highs
[11:05] <win> maybe time for some iron in my diet
[11:05] <robh61> DEJ? richJR?
[11:06] <Blink> http://seekingalpha.com/instablog/790526-theforensicfactor/134750-autochina-autc-the-most-preposterous-chinese-reverse-merger-yet
[11:06] <win> cannt help but think of that one that was bashed
[11:06] <Blink> autc back up
[11:06] <cheeeea> very odd
[11:06] <Blink> One company that has somehow managed to avoid scrutiny until now is AutoChina (NASDAQ: AUTC). However, after a deep dive into AutoChina, The Forensic Factor ("TFF") has concluded that AutoChina is potentially the most dangerous Chinese reverse merger that we have examined. As the AutoChina story gets exposed, we would expect a significant share decline of at least 50% and a material
[11:06] <Blink> increase in the short interest (incredibly, less than 1% of the shares are short – a true rarity among the Chinese reverse mergers). TFF believes investors would be prudent to avoid AutoChina at all costs. At the same time, we implore regulators to protect the investing public and launch an investigation into AutoChina. This report, Part I of II that we will publish on AutoChina, will
[11:06] <Blink> highlight the following issues:
[11:06] <Blink> wicked bash
[11:06] * Blink shorts AUTC
[11:06] <RichJr> ok thats another
[11:07] <Blink> FF believes that when the dust settles, AutoChina will be a single digit stock. As of January 24, 2011, the 72 companies in Roth Capital's Chinese Investment Universe Publication traded at 7.7x earnings. If AutoChina simply traded inline with the broad Chinese universe, it would be $14 per share based upon consensus estimates. Taking into consideration the possible 50% dilution, the
[11:07] <Blink> stock would be closer to $7.00 with an inline multiple to the peer group. However, given the quantity of issues that TFF has discussed, it would seem logical that investors would value AUTC at a discount to its peer group (assuming the earnings do not vanish in a restatement). TFF would point out that should bad debt increase, or funding dry up, there are ample scenarios where AUTC
[11:07] <Blink> equity could go to zero. We believe the serious issues TFF has raised warrant investor skepticism. It is the opinion of TFF that investors will suffer at least 50% downside from current levels.
[11:07] <dwgooden> AUTC way tippy top of the range
[11:07] <Blink> single digits they calling
[11:07] <Blink> oh my
[11:07] <turbo> sh YM 11946
[11:08] <RichJr> BQI 60c line
[11:08] <turbo> 0 pt stop
[11:08] <turbo> 10
[11:08] <Knowfunn> arggh! no options AUTC
[11:08] <win> MCP working out of this range
[11:08] <revv> IDSY giddy-yup
[11:08] * Blink AUTC look OUT
[11:09] <steeledge> autc no borrow argh
[11:09] <rayban123> IIG ?
[11:10] <RichJr> BQI 60c broken
[11:11] <storm1> ASTI tickin on news
[11:12] <dwgooden> bbbb
[11:12] <dwgooden> bash
[11:12] <Blink> BBBB bash
[11:12] <Blink> whoa
[11:13] <dwgooden> not nice
[11:13] <rayban123> Herbie would be fun at a funeral
[11:13] <TB-Dave> don't "blink" huh
[11:13] <dwgooden> lead product gonna be free?
[11:13] <Blink> yikes
[11:13] <d4ys> surprised NVDA is so 'weak', ARMH a good preview of whats to come on earns in 2 weeks
[11:14] <TB-Dave> im still in ARMH calls
[11:14] <Blink> 1:14 BBBB Blackboard shares tick lower after Herb Greenberg highlights press release put out by Instructure (38.42 -0.42)
[11:14] <Blink> Notes that Instructure has released the source code to its Canvas learning management system, which means educational institutions can download and use the Canvas Community Version for free.
[11:15] <dantes> MOBI looks great
[11:15] <rayban123> home builders strong
[11:15] <TB-Dave> it does dantes
[11:17] <DVDKing> JAZZ what a stock, all dips were bought yesterday
[11:17] <slide> TA heavy
[11:18] <ksh> LRCX strong
[11:18] <FrankBanfi> CLDX lod 3,63
[11:19] <rayban123> SCON volume today off that thestreet.com article
[11:20] <dwgooden> mrna?
[11:20] <ksh> ray u have url handy
[11:20] <d4ys> SINA you gotta love how they game this stock almost on a daily basis
[11:20] <rayban123> [10:39] <@rayban123> Superconductor Technologies Inc. Produces 2G HTS Wire Samples For Superconducting High Power Transmission Cable, Fault Current Limiter And Wind Turbine Generator Applications. http://www.thestreet.com/story/10990951/1/superconductor-technologies-inc-produces-2g-hts-wire-samples-for-superconducting-high-power-transmission-cable-fault-current-limiter-and-wind-tu
[11:20] <rayban123> rbine-generator-applications.html
[11:21] <dwgooden> interesting news
[11:21] <RichJr> earnings count-down started…2 weeks…consistently profitable since company shift to PEO services 100%…..this will be first time in over a year that trading liquidity is unrestricted for their earnings……i expect to see similar to higher net-income than year ago period ….. $60mil revs with $7mil mkt cap…..2mil float … heavily insider owned company………….i will be
[11:21] <RichJr> looking for $2-3 on these shares as previously posted….2007 pricing
[11:21] <RichJr> for FFI…………….
[11:21] <ksh> ty
[11:21] <rayban123> yw
[11:22] <ksh> SIMO got an upgrade
[11:22] <ksh> SIMO Silicon Motion upgraded to buy from hold at Needham
[11:22] <Newsbounce> OREX 2.58 -71% bought some for a bounce trading near cash levels and near tangible book value.
[11:22] <dwgooden> "Achieving our goal of completing all three wire samples is an enormous accomplishment for STI's 2G HTS wire initiative
[11:22] <dwgooden> re SCON
[11:22] <lucas> VVUS lod
[11:24] <lucas> ARNA hod
[11:24] <slide> Jim Cramer
[11:24] <slide> ARMH
[11:24] <slide> 2/1/2011 11:23 AM EST
[11:24] <slide> Arm Holdings management coming on Mad Money tonight. Pretty magnificent quarter…. Big Market Movers –Ken Shreve's newsletterr–holding!!!!
[11:25] <dwgooden> http://finance.yahoo.com/news/Superconductor-Technologies-pz-4217829374.html?x=0&.v=1
[11:25] <dwgooden> worth a read
[11:25] <dwgooden> songw not here today?
[11:25] <dwgooden> look at the applications for this technology
[11:25] <revv> In SCON
[11:25] <RichJr> good patent news out for WEST today
[11:26] <rayban123> SCON they found it
[11:26] <dwgooden> 2+ ray?
[11:26] <lucas> ARNA squeeze
[11:26] <rayban123> do it
[11:27] <dwgooden> Superconducting High Power Transmission Cables: HTS advanced power transmission cable transmits five to twenty times the electrical power of traditional copper or aluminum cables with much improved efficiency
[11:27] <dougs305> VHC any news ??
[11:27] <dwgooden> Superconducting Wind Turbine Generators: Superconducting wind turbines allow utilities to add more "power per tower" by significantly reducing turbine size and weight and improving power generation efficiency
[11:27] <dwgooden> wth
[11:27] <Smart-Ticker> OPEN strying to pop out
[11:28] <rayban123> Dwgooden, I remeber SCON 2009. check April 20th
[11:28] <rayban123> $1.70s ————-> $3.60s in three days
[11:28] <dwgooden> 1'ss to 3"s
[11:28] <rayban123> sorry $1.10s
[11:29] <d4ys> ARMH chart looks great with europe close
[11:30] <verona> BAC wow
[11:30] <d4ys> held major supports
[11:30] <verona> BAC wanted to short 14.02 , luckily didnt do it
[11:31] <revv> Blueberry SCONe, pls
[11:31] <lucas> RVSN nice
[11:31] <win> i cannt hear cnbc
[11:31] <AnnaInVA> unmute
[11:32] <rayban123> good morning Trish
[11:32] <tani> SSN dip
[11:32] <win> better anna
[11:32] <AnnaInVA> heh
[11:32] <RichJr> as BQI rips
[11:32] <Newsbounce> OREX 2.61 Cash 100 million m cap 123 million + pipeline debt 8 million
[11:32] <d4ys> added JPM long term calls
[11:32] <Newsbounce> http://finance.yahoo.com/q/ks?s=OREX+Key+Statistics
[11:33] <d4ys> NXPI breaking higher
[11:33] <AnnaInVA> this smells of euphoria again
[11:33] <rayban123> Anna, play along
[11:33] <songw> Steel prices continue their upward surge http://www.commodities-now.com/news/metals-and-mining/4842-steel-prices-continue-their-upward-surge.html
[11:33] <Knowfunn> RVBD put candidate
[11:33] <dwgooden> NXPI higher with new shares coming to mkt. very impressive
[11:33] <f57> CSC oof
[11:34] <Blink> On January 28, 2011, Computer Sciences Corporation (the "Company") was notified by the United States Securities and Exchange Commission that the Commission has commenced a formal civil investigation relating to the Company's previously disclosed accounting adjustments in the Company's Managed Services Sector segment, primarily in Europe's Nordic region. The Company is cooperating
[11:34] <Blink> with the Commission's investigation.
[11:34] <dantes> all those NXPI shares are owned by KKR
[11:34] <revv> 1.80 break on SCON sends it aloft
[11:34] <dantes> and they longterm on this (they bought this unit from Phillips in 2007)
[11:35] <dwgooden> ok ty
[11:35] <TraderX> TIV on watch
[11:35] <d4ys> NXPI all the more reason to push it as high as possible today
[11:36] <Blink> why isnt AUTC down 6 stix yet?
[11:36] <dwgooden> SCON hod
[11:36] <d4ys> CCME citron is leaning on it, but will likely squeeze eod
[11:37] <Jimmy_No-Nose> why the heck would it squeeze
[11:37] <DVDKing> LVS new hod
[11:37] <duck> OSN low float came off bottom, quiet period ending from IPO
[11:37] <Blink> AUTC on Zerohedge now
[11:38] <Blink> The Forensic Factor On The "Most Preposterous Chinese Reverse Merger Yet": AutoChina (AUTC), Sees 50% Price Drop
[11:38] <plti> Vivus: Negative CRL for contrave unlikely to impact Qnexa approval process – JMP Securities (7.36 -1.59)JMP Securities remains confident that a pre-approval outcomes trial will not be required for Qnexa. They believe that the questions related to heart rate for Qnexa have been adequately addressed by Vivus, and gain comfort from the recent end-of-review meeting at which cardiovascular
[11:38] <plti> risk was not raised as an issue of concern. They anticipate pressure to all companies in the obesity space this morning but would be buyers of VVUS shares on the weakness.
[11:38] <rayban123> rabbit hunting season time
[11:38] <dantes> FNMA no dip at all
[11:39] <dantes> MOBI hod
[11:39] <verona> FNMA nice
[11:39] <steeledge> MOBI nice bounce from dip below 7
[11:40] <d4ys> ARMH $27.95 52w high, no reason it doesn't attack that on cramer pump
[11:40] <rayban123> Win, we getting mother of all snow dumps tonight
[11:41] <Jimmy_No-Nose> CSC formal sec investigation on accounting adjustments
[11:41] <dwgooden> NXPI congrats longs
[11:41] <win> ray i spent the morning shoveling the roofs again
[11:41] <shooter> DOW +100
[11:41] <cstrader> aib guys
[11:42] <RichJr> BQI breaking 60c again…CNBC highlighting "oh canada" oil tonight
[11:43] <DVDKing> LVS boom
[11:43] <Smart-Ticker> ALTR breakn out again
[11:44] <spiderman> TCCO, very nice from low 12's last week.
[11:44] <lucas> PRTS nice
[11:44] <lucas> needs more volumes
[11:44] <Blink> AUTC looks like it wants to powerdive
[11:45] <BobbyM> the buy the SPY trade OCT 27 sell the close FEB 1 ends today another killer year
[11:45] <songw> ag trade mo is back pot mos mon sqm agm etc
[11:45] <bulman> hard borrow autc
[11:45] <rayban123> SPX 1,300s, DJI so near 12,000s. Happy Times Are Here Again —–> http://www.youtube.com/watch?v=OCLCcD94hE4
[11:46] <DVDKing> TA huge
[11:46] <digitaltrader> DEJ micro canadian oil play
[11:47] <lucas> DRL earnings tomorrow?
[11:47] <digitaltrader> announced yesterday of further development of Canadian oil
[11:47] <digitaltrader> DEJ
[11:48] <RichJr> been swimming in canadian oil for 2 days…SSN and now BQI
[11:48] <win> cnbc rich
[11:49] <RichJr> its a little sandy
[11:49] <Knowfunn> SINA fading
[11:49] <TIB> lol
[11:49] <RichJr> yep CNBC to pimp canada oil sands…..calling it next gold rush
[11:49] <digitaltrader> DEJ canadian oil deal
[11:50] <dwgooden> little developmental oil play doing well
[11:50] <RichJr> maybe they will make a TV show about that too
[11:50] <d4ys> JPM nice action today
[11:51] <RichJr> AUTC great job folks
[11:51] <Blink> GENZ
[11:51] <Blink> oh my
[11:52] <dwgooden> 76-77
[11:52] <lucas> HERO hod
[11:52] <dwgooden> uh boy
[11:53] <dwgooden> lots o' headlines
[11:53] <d4ys> wow genz
[11:53] <MrBill> FO 02/01 08:53 SNY Sanofi deal talks may value at Genzyme at $76-$77 per share, Bloomberg says
[11:53] <songw> new 52 week high artw
[11:54] <songw> the low float ag
[11:54] <dwgooden> autc yikes
[11:55] <RichJr> BQI taking out 62 centabos…..SSN heat
[11:55] <revv> ASTI on watch
[11:55] <kostas> why is GENZ doing down then
[11:55] * dwgooden scon hod
[11:56] <f57> unreal day
[11:56] <f57> like the late 90's
[11:56] <FrankBanfi> EURUSD spot 1,38
[11:56] <f57> nasdaq +43
[11:56] <lucas> HERO hod
[11:56] <lucas> wow
[11:56] <rayban123> SCON jamma whamma pamma oh boy! look at April 20th 2009, see what happened in three days
[11:57] * ptrader add HERO
[11:57] <rayban123> http://www.thestreet.com/story/10990951/1/superconductor-technologies-inc-produces-2g-hts-wire-samples-for-superconducting-high-power-transmission-cable-fault-current-limiter-and-wind-turbine-generator-applications.html
[11:57] * dwgooden SCON big news
[11:57] <revv> SCON #3 Naz leader. Nice work, lads.
[11:57] <ptrader> INFN hod
[11:58] <momo> fat bid AUTC
[11:58] <dwgooden> GE is SCONs partner fwiw
[11:58] <dwgooden> http://www.globenewswire.com/newsroom/news.html?d=167229
[11:58] <dwgooden> older
[11:58] <rayban123> whoaaa SCON in possible partnership with GE
[11:58] <robh61> are we sure the report on cnbc oilsands tonight will be positive? http://www.pembina.org/oil-sands
[11:58] <dwgooden> volume
[11:59] <BobbyM> how could it not be positive?
[12:00] <dwgooden> f
[12:00] <lucas> personally I dont care about oilsands we need to reopen the gulf
[12:00] <storm1> AVL startin
[12:00] <robh61> just was reading that oilsandswatch.org sight and they touch on some challenges BobbyM… just a question
[12:01] <Blink> F man wheels falling off?
[12:01] <BobbyM> i say close the gulf get these micro oils some momo
[12:01] <dwgooden> lol
[12:01] <TraderX> lol
[12:01] <ksh> ALJ day hi
[12:02] <bh> oil sands environmental trainwreck but as long as the oil flows to the USA, it's all good
[12:03] <revv> SCON now for the fireworks
[12:03] <plti> F horrible numbers wheres phil
[12:03] <Blink> F Reports Jan US sales 13% v 13%e; to 127.3K units – Total Truck and van sales +24.6% y/y at 49.04K units v +12.9% y/y to 72.5K units in Dec
[12:03] <Blink> ya had to bang F on that
[12:03] <RichJr> my wife giving talk next week on how fracking wells creates micro-earth quakes that cause cracks far beyond the primary zone
[12:03] <RichJr> she a real tree hugger
[12:04] <Minnow> Rich, have you seen Gasland?
[12:04] <TraderX> Opposites attract
[12:04] <Jape> AUTC looks like a potential squeezer now
[12:04] <bh> little diesel in the your morning coffee great way to start the day
[12:04] <TIB> lol
[12:05] <TraderX> Gasland = scary
[12:05] <Minnow> yep
[12:05] <BobbyM> DW there's the GM F pairs trade fwiw chrysler is doing great right now
[12:05] <bg> SCON 2
[12:06] <BobbyM> and chanis is sh F
[12:06] <RichJr> SCON geesh guys
[12:06] <BobbyM> chanos
[12:06] <d4ys> fins leading us to new highs imo
[12:06] <d4ys> euro 1.38+
[12:06] <f57> CNLG being DELISTED tomorrow mornig.
[12:06] <DVDKing> SCON nice
[12:06] <f57> PR just out on CNLBC
[12:06] <RichJr> DOW 11,998
[12:06] <spiderman> MTSL should start acting like TCCO here. Earnings coming.
[12:06] <f57> CNLG
[12:06] <win> finally
[12:07] <Superman> tcco nice
[12:07] <cstrader> aib ya heard
[12:08] <bh> Gasland listed as "long wait" at Netflix.. must be popular
[12:08] <f57> CNLG -15.6%
[12:09] <kostas> it would be nice if MTSL can start moving, very low float, but seems to stall out evertime it hits $2.20
[12:09] <d4ys> over 214.2 NFLX can push to squeeze
[12:09] <f57> CNLG -21%
[12:10] <rayban123> DJI 12,000 printing!
[12:10] <Newsbounce> OREX lod 2.48 -72% added more
[12:11] <songw> if fracking is curtailed nat gas could move up
[12:11] <songw> less supply
[12:12] <RichJr> you could get shot dead and buried under a shed for saying that in texas songw
[12:12] <f57> CNLG -27%
[12:13] <f57> CNLG -30.8%
[12:14] <RichJr> Eagle Ford formation is in progress…billions upon billions of dollars already at work….they will frack till its all fracked out in texas
[12:14] <RichJr> should take about 30 years
[12:15] <MrBill> FO 02/01 09:13 ICFI ICF International awarded EPA contract worth up to $107.6M – [Reference Link]:[http://https://www.fbo.gov/?s=opportun
[12:17] <songw> tzoo 50
[12:18] <slide> ARMH wants hod
[12:18] <simplex> GE steady
[12:19] <d4ys> ARMH might get $30 tmr on a spike
[12:19] <DVDKing> ARMH another b/o?
[12:19] <robh61> FSII on radar
[12:19] <d4ys> 27.95 is the key mark
[12:19] <f57> nasdaq +51. welcome to the start of the next bubble
[12:19] <d4ys> BIDU moving higher here, 118 area is key for a solid b/o
[12:20] <DVDKing> SCON has that look
[12:20] <d4ys> fwiw SINA i think you ignore the HF gaming it and you buy on fundementals & growth w/ its peers posting huge #s, and SINA being the one that has WEIBO gem
[12:21] <verona> BAC 14.5 commin before close imo
[12:21] <revv> SCON pullbacks have been shallow
[12:21] <rayban123> shorts have to be capitulating today
[12:21] <dwgooden> SCON 200 day slicer
[12:22] <rayban123> Dw, SCON has a history of multi-day runs. hard and fast
[12:22] <ferrari> joes clocking pros rayban!
[12:22] <rayban123> April 17th $1.10s. three days later ————————-> $3.60s
[12:22] <shooter> SCON has massive buying pressure
[12:22] <rayban123> 2009
[12:25] <rayban123> SCON do the math on daily volume today vs. average
[12:26] <dwgooden> SCON fake offer technique
[12:27] <dwgooden> they did it in the 1.80s too
[12:27] <rayban123> tom fooolery
[12:27] <dwgooden> pulled em
[12:27] <ptrader> INFN hodding
[12:28] <rayban123> Dwgooden, dont stand for it! Dont sell till you see the whites in shorts eyes
[12:28] <dwgooden> acting really well
[12:29] <dantes> EBAY b/o they got a nice niche about to form in NFC with paypal most likely
[12:29] <f57> CNLG -36%
[12:29] <dantes> LVLT right at their b/o
[12:33] <RichJr> watch that 3min on SCON here
[12:33] <f57> CNLG -41.9%
[12:33] <RichJr> COCO hod
[12:33] <Blink> CNLG wow
[12:34] <Blink> who had CNLG shorts?
[12:34] <Blink> IB?
[12:34] <dominoes1> IB has 15k CNLG shorts left
[12:34] <Blink> ty
[12:34] <rayban123> CLNG insiders rarely ever bought their own stock
[12:35] <d4ys> CCME nice
[12:35] <d4ys> NVDA some strength seeping in here
[12:37] <Newsbounce> OREX float turning over twice today going for third turnover 106 million volume bullish for a bounce
[12:38] <cstrader> aib squeezing
[12:38] <d4ys> BIDU gunning new highs, and really thickening up here, 25k orders all over
[12:39] <dantes> CYOU chinese gamer just ripping
[12:39] <dantes> that should bode well for GLUU
[12:39] <songw> mos 84
[12:39] <ptrader> INFN nice
[12:40] <momo> USAT green again
[12:40] <ptrader> DNN nice
[12:40] <dwgooden> SCON
[12:40] <dwgooden> very lil pullbacks
[12:42] <shooter> so close to b/o
[12:43] <ptrader> INFN kaboomski
[12:44] <f57> why does cnbc pump finerman's MEE call?
[12:44] <steeledge> GENE seems coiled
[12:44] <f57> her January options didn't catch the buyout
[12:44] <f57> they expired
[12:44] <f57> idiots
[12:44] <RichJr> EDGR another patent awarded…they are building more and more into the XBRL financial data space
[12:46] <TIB> companies that drill in the austin chalk formation http://www.oilshalegas.com/austinchalk.html
[12:47] <dantes> OPEN at b/o
[12:47] <dantes> OCZ great table pound B
[12:48] <Blink> thx
[12:48] <songw> TSA testing out less invasive full-body scanner
[12:49] <ksh> DHX b/o
[12:49] <ksh> CHK day hi on sell reco this morning
[12:49] <TIB> http://oilshalegas.com/eaglefordshale.html
[12:49] <songw> Jordan's King Dismisses Govt. After Weeks of Public Protests
[12:50] <songw> King Abdullah's move is a response to street protests by thousands of Jordanians demanding the resignation of a government they blame for rising fuel and food prices and slow political reforms.
[12:50] <bucko> rayban123 u here?
[12:50] <win> ksh
[12:50] <win> http://videos.thestreet.com/v/36637986/mad-money-recap-chesapeake-s-worth-60.htm?CM_VEN=AD|TWR|JC
[12:50] <rayban123> yes Boss
[12:50] <bucko> looks like your ALTI coiled here
[12:51] <rayban123> oh nice. unleash those hounds
[12:51] <rayban123> wooof wooof!
[12:51] <beach> does anyone have any thoughts about going long TZA here? thanks
[12:51] <ksh> dollar getting smushed
[12:51] <ptrader> PPHM warming up
[12:52] <rayban123> I bet you Art Cashin hitting the bar across the street from the exchange a lil early today
[12:52] <FrankBanfi> EURUSD spot R2 near 1,3833 now
[12:53] <f57> hilary SNRY pr just out.
[12:53] <f57> hilarious SNRY pr just out.
[12:53] <MrBill> yeah oops
[12:53] <songw> A Jordanian palace statement says the government of Prime Minister Samir Rifai resigned Tuesday.
[12:54] <DVDKing> LVS rippa
[12:55] <rayban123> cnbc "Egypt NON-EVENT. packup the satellite truck, crewm fly Erin back and get out of there. crisis is over"
[12:55] <lucas> lol
[12:55] <bucko> next
[12:56] <RichJr> Justin Beaver gets a new puppy….new crisis
[12:56] <bucko> ray its no crisis when people crawling all over tanks taking pics
[12:56] <d4ys> NFLX nothing to worry about re: AMZN?
[12:56] <rayban123> seriously
[12:56] <songw> bloodless coup
[12:56] <songw> so far anyway
[12:56] <dwgooden> scon 1 ,illion
[12:56] <dwgooden> m
[12:56] <bucko> its the new style coup, twitter coup
[12:56] <TIB> it does matter until it matters
[12:57] <TIB> does not
[12:57] <d4ys> JPM 52w highs?
[12:57] <rayban123> I found the next crisis
[12:57] <bobby44> they pisse at Al Gore that he onvented the internet ?
[12:57] <rayban123> this weekend in Dallas. they need something like 10,000 more girls
[12:57] <bucko> read that ray, stripper shortage
[12:57] * Blink buys VG on major flag b/o
[12:58] <bucko> gonna have to bring in the c and d grades
[12:58] <lucas> lol
[12:58] <bucko> VG beaut chart bo
[12:58] <Tex> those 10k are for me whats everyone else going to do
[12:58] <lucas> dallas needs RICK
[12:58] <lucas> LOL
[12:58] <rayban123> http://www.tmz.com/2011/01/27/strippers-nfl-strip-club-green-bay-packers-pittsburg-steelers-strip-club-gentlemens-club-arlington-dallas-fort-worth-showtime-cabaret/
[12:59] <songw> theyre prob all out fracking
[12:59] <JRW2> CNN topless protestors
[12:59] <storm1> VHC nice move
[12:59] <miller> RICK been goin down since that article
[12:59] <miller> wet blanket
[12:59] <lucas> ya
[12:59] <rayban123> lol cnn
[12:59] <lucas> lol
[13:02] <Marginmn> SCON Superconductor trading ~30% higher after confirming wire samples met customer requirements (1.99 +0.46)The co announced before the open that it has successfully produced second generation (2G) HTS wire samples that meet requirements specified by customers for HTS AC power cable, superconducting fault current limiter and HTS wind turbine applications. Delivery of the samples for customer testing is expected to begin shortly.
[13:03] <Blink> AUTC fugly
[13:03] <shooter> maybe some of the hookers in Vegas i saw in the Hard Rock last night will head to Dallas
[13:04] <Tex> better bring a snow sled and ice skates
[13:04] <d4ys> AUTC nice call
[13:04] * rayban123 Blink great alert AUTC
[13:05] <dwgooden> scon hod
[13:05] <dwgooden> Volume
[13:05] <rayban123> SCON <——————– high probability, multi-day runner
[13:06] <d4ys> INTC great move today
[13:06] <lucas> ARNA nice
[13:07] <TIB> nano hod
[13:07] <rayban123> nice rug
[13:08] <shaw> DISH citi very positive
[13:08] <shaw> shud be up another 2
[13:12] <lucas> get ready 4 ARNA
[13:16] <FrankBanfi> nice alert lucas
[13:16] <lucas> ya
[13:19] <d4ys> NXPI pushing higher again quietly under the radar
[13:21] <rayban123> IDTI get ready
[13:21] <shaw> RAS
[13:22] <shaw> HOD
[13:22] <shaw> ACLS could run here into eps
[13:26] <f57> Nearly 11 Percent of US Houses Empty
[13:27] <RichJr> thats cause people at work silly
[13:27] <rayban123> f57, you have a link for that?
[13:29] <ksh> http://www.cnbc.com/id/41355854 ray
[13:29] <ksh> Diana Olick
[13:29] <f57> thanks ksh. I had closed the browser
[13:29] <rayban123> ty
[13:30] <TIB> http://www.gasbuddy.com/gb_gastemperaturemap.aspx
[13:31] <d4ys> NVDA looking better
[13:32] <ksh> its double ewe day today apparently
[13:33] <ksh> WWW and WWWW on long scans
[13:33] <plti> DJ Mubarak To Say He Won't Run For New Term -Al Arabiya
[13:34] <RichJr> "run"..lol….only thing he ever ran was the opposition straight to jail
[13:35] <duck> bloom tv saying that is out but not confirmed
[13:35] <RichJr> tails i win, heads you lose
[13:38] <ptrader> PPHM nice
[13:38] <ptrader> INFN nice
[13:41] <Smart-Ticker> AVGO breakn out
[13:42] <d4ys> SOHU what a beauty
[13:43] <songw> Feb. 1 (Bloomberg) — Soybeans rose to a 30-month high and corn climbed as a strike by Argentina's port workers halted grain vessels, increasing demand for supplies from the U.S., the world's biggest exporter.
[13:45] <shaw> ACLS HOD
[13:45] <shaw> watch into eps
[13:45] <f57> EGPT going
[13:46] <f57> a bit
[13:46] <f57> .
[13:47] <revv> IDSY slow but decent mover today
[13:47] <ksh> WEBM hi
[13:47] <Manchester> When Mubarak leaves, give it 12-18 months and they wish they could have him back (ala Bush here)
[13:47] <RichJr> just noticing that ksh
[13:48] <bobby44> why Mubarak going to print money and start a BS war ?
[13:48] <dantes> Mubarak supposed to speaking on TV tonight, its 8:45pm there so he could be on at any point
[13:48] <d4ys> SINA $86
[13:48] <d4ys> small pop here, but could wake up at any moment and play catch up
[13:49] <Manchester> no bobby, people think that everything will improve with a new leader.
[13:49] <Marginmn> OREX Orexigen Therapeutics tgt lowered to $1 at Rodman and Renshaw (2.54 -6.55)Rodman and Reshaw is lowering their tgt to $1 from $5; they believe that the continued development of Contrave is likely to erode shareholder value, and they believe a more prudent decision would be to discontinue this program.
[13:50] <jay> SINA could see 150 by june call me crazy
[13:50] <d4ys> chart could look a lot like SOHU's did yest
[13:50] <jay> 5 billion cap with 850 illion in cash hottest internet property in china
[13:50] <jay> no respect
[13:51] <jay> just needs to take out 90 and hold then 105 a certainty as its first step.
[13:51] <RichJr> understand he will announce a building project to put many more egyptians to work
[13:51] <RichJr> something about a pyramid
[13:51] <bulman> Cowen believes that the news out of Orexigen (Nasdaq: OREX) this morning could push back a possible approval for Contrave til 2015. The firm suggests that with $100 million in cash, Orexigen will need to raise around $200 million in order to complete the study the FDA has requested.
[13:51] <jay> will give u a cornary watching every tick though
[13:51] <Newsbounce> OREX has a phase IIb with another drug. volume is sick 4 time float. naked shorting anyone lol.
[13:51] <RichJr> sounds like a scheme
[13:51] <jay> might need to see heart dr
[13:51] <d4ys> i been trading it daily for the last 2 months jay, has 1 main fund that likes to move it pretty directionally each day
[13:51] <d4ys> thats why you get those nice +5 +6 days
[13:51] <jay> been my biggest money maker
[13:51] <jay> past 6 months
[13:52] <RichJr> WEBM 1.60
[13:54] <d4ys> NXPI gimme that thin parabolic pop to $30
[13:55] <Newsbounce> . 2.54 orex -73% hoping this thing will bounce my avg is 2.55 on it . how could cowen downgrade it below cash that is nuts imo. cash 2.22 pershare
[13:55] <dwgooden> cash is being burned as we speak
[13:55] <dominoes1> they can run out of cash easily
[13:56] <niko> just look arna after rejection
[13:56] <Newsbounce> they could close up shop and give shareholders back a refund of 2.00 per shares and sell off assets . not counting I.P.
[13:56] <BobbyM> if they give you cash how will they get paid?
[13:57] <Newsbounce> i said if they closed down. dont need to pay anyone if they closed down.
[13:57] <Jake> lol
[13:57] <Blink> TA nice
[13:57] <Newsbounce> lol
[13:58] <verona> newsbounce you play the bounce if not I would put a tight stop here
[13:58] <Newsbounce> i am playing the bounce. not longterm.
[13:58] <Newsbounce> paint dry
[13:59] <Knowfunn> anyone remember Storage Networks?
[14:00] <lucas> HAWK hod
[14:00] <Carey> those damnedable pajamagram and teddybear ads starting
[14:00] <Blink> TA +109%
[14:00] <bobby44> this Egypt issue shook out the weak hands we probably go higher
[14:00] <f57> EGPT 18.
[14:00] <bobby44> maybe not today of course
[14:01] <steeledge> OSN truckin along…nice call from someone in here earlier
[14:01] <duck> 🙂
[14:01] <steeledge> nice 1 quacker
[14:02] <duck> yw
[14:03] <plti> the difference between studio erin and egypt erin is significant
[14:03] <rayban123> how so?
[14:03] <niko> less make up
[14:04] <lucas> indiana erin sounds older
[14:05] <rayban123> you think she is wearing anything under that trench coat?
[14:05] <MrBill> lol
[14:05] <RichJr> news flash?
[14:06] <plti> SEC Charges 8 People, 3 Companies In $33M International Microcap Fraud
[14:06] <lucas> ray now Im horny
[14:06] <win> rayban any chance for reversal today
[14:06] <d4ys> BIDU accumulation being done in rounds
[14:06] <rayban123> Win sorry I dont know
[14:07] <RichJr> in a few shares YRCW just over $4
[14:07] <d4ys> NVDA showing some new strength here, that $25 is in sight, gonna be adding calls
[14:07] <BobbyM> NFLX so weak
[14:07] <d4ys> BIDU nhods!
[14:08] <f57> EGPT 18.10
[14:08] <d4ys> serious buy interest here, $120+ cometh
[14:08] <Smart-Ticker> BIDU super strong
[14:08] <TIB> michelle headed to dallas for the week
[14:08] <Smart-Ticker> 150 prob next week
[14:08] <f57> http://www.youtube.com/watch?v=BWP-AsG5DRk
[14:09] <d4ys> smart ticker if you think so, you better be buying the feb calls
[14:09] <rayban123> Google said to be hiring 'dozens' to boost Android app development. http://www.engadget.com/2011/02/01/google-said-to-be-hiring-dozens-to-boost-android-app-developme/
[14:09] <d4ys> i personally like the march 145s here
[14:09] <d4ys> well from .18 earlier, but even here @ .29 they are cheap imo
[14:09] <TIB> to make extra income from the paycut comcast gave her
[14:10] <d4ys> $125 weeklies high risk but could be huge reward if BIDU pops another 3 into close, and 5 more tmr and
[14:10] <d4ys> i added .22 here
[14:10] <lucas> http://www.americanbankingnews.com/2011/02/01/ubs-ag-ubs-analysts-begin-coverage-on-motorola-mobility-mmi/
[14:10] <TIB> rally call for the bailout was to get comm paper going again – it worked no – lol http://research.stlouisfed.org/fred2/series/COMPOUT?rid=86
[14:11] <f57> EGPT +4% 18.20
[14:14] <lucas> HAWK hod
[14:14] <lucas> wow
[14:14] <songw> Missouri covered in snow and ice
[14:15] <f57> erin sounds great
[14:15] <f57> microphone broke
[14:15] <jobynimble> sounds like a gekko
[14:15] <Jake> check
[14:16] <d4ys> LULU $73s,
[14:16] <Smart-Ticker> LULU monster
[14:16] <AnnaInVA> I dont understand why all these networks have to run over there
[14:17] <AnnaInVA> if something happens to them, our poor troops have to go in and put their lives on the line
[14:17] <RichJr> same reason so many traders chase hot stocks
[14:17] <slide> cramer may pump MTW
[14:17] <Blink> AA possible as well
[14:18] <RichJr> YRCW a click from hod
[14:18] <RichJr> see if we get that running start at $5
[14:18] <rayban123> lol guy was checking out Erin
[14:18] <plti> two days in a row now
[14:21] <Knowfunn> PLOW? http://nnvl.noaa.gov/MediaDetail.php?MediaID=640&MediaTypeID=1&sms_ss=twitter&at_xt=4d4859aadf12521d,0
[14:23] <AnnaInVA> wow, Knowfunn
[14:23] <AnnaInVA> that is some storm
[14:24] <Jimmy_No-Nose> MTW ring those bells rayban
[14:25] <Knowfunn> ANNA I'm waving my white flag but no can see because I'm under a snowbank
[14:26] <AnnaInVA> 🙂
[14:27] <Knowfunn> out half YOKU calls
[14:27] <win> we have snow hills here way past banks
[14:27] <raptor66> enr still climbing back
[14:28] <spiderman> GENE, trading very different today. Strong like bull.
[14:29] <steeledge> tatonka
[14:30] <BobbyM> erts that's one explosive chart pattern if it breaks through the TL
[14:30] <rayban123> PCAR massive volume today
[14:30] <Blink> AA
[14:31] <rayban123> Blink <——————– called AA this morning. nice call Blink
[14:31] <silver> ATVI nice daily chart
[14:31] <jobynimble> eh eh
[14:32] <digitaltrader> Blink is in AA
[14:32] <digitaltrader> that explains alot 😉
[14:32] <f57> CNLG -48.8%
[14:33] <steeledge> and here i thought GENE would have a problem getting back thru $3
[14:33] <f57> egESPT +4.45%
[14:33] <f57> EGPT +4.45%
[14:33] <rayban123> JNN, MTW cnbc
[14:34] <MrBill> CMI up 1.00 ty cramer
[14:34] <Blink> HBAN huge PumpA
[14:35] <RichJr> SCON 3min macd upturn….avter 2 hours of consolidation…for you longs
[14:35] <RichJr> fwiw
[14:35] <dwgooden> lets see here
[14:35] <dwgooden> hod close would be nice
[14:37] <TraderX> Pharrohs revenge
[14:37] <morgan99> what did cramer say on gold
[14:38] <bg> gold stocks are still rising
[14:38] <songw> stay away from lettuce
[14:38] <dwgooden> lol
[14:38] <shooter> and toe-matos
[14:38] <morgan99> thats what he said?
[14:38] <morgan99> depends which ones yu r in
[14:39] <dwgooden> SCON back at it
[14:39] <songw> yes no one knows if he meant literally or figuratively
[14:39] <morgan99> i had to answer the door
[14:39] <dwgooden> read that news
[14:39] <morgan99> just when he spoke
[14:39] <BobbyM> lol
[14:39] <dwgooden> lol
[14:39] <Blink> MTW nice call
[14:40] <slide> 🙂
[14:40] <Blink> nice 1 Slider
[14:40] <slide> ty
[14:41] <ksh> isnt there a no door answering clause in the contract during trading hours?
[14:41] <jobynimble> lettuce pray
[14:41] <BobbyM> OIH weak surprising
[14:42] <ksh> BIDU nhod
[14:42] <d4ys> BIDU no stopping it anytime soon
[14:42] <d4ys> time for calls to rock into close
[14:43] <verona> OIH weak cause egypt is calm today
[14:43] <Newsbounce> OREX 2.64 nice .
[14:44] <dwgooden> GENE where is our pr
[14:44] <lucas> ERTS Feb 1, 2011
[14:44] <lucas> Q3 2011 Earnings Release – 4:00PM EST
[14:45] <bg> GOES-13 satellite photo of storm http://www.physorg.com/news/2011-02-huge-storm.html
[14:45] <d4ys> good chance the market breaks previous highs tmr, along w/ fin strength & JPM clean break of 52w
[14:45] <BobbyM> verona moist of the components are +
[14:45] <Jimmy_No-Nose> GENE's pr probably the same place HILL's is
[14:45] <BobbyM> most
[14:45] <BobbyM> SLB etc
[14:45] <dwgooden> lil diff jnn
[14:45] <Newsbounce> time for someone to call aussie dw.
[14:46] <Newsbounce> re gene
[14:46] <songw> x eyeballing 60
[14:46] <dwgooden> gene put out a filing. hill was all spec
[14:47] <DVDKing> LVS looks good for $50 tomorrow
[14:48] <ksh> eps soon there dvdking
[14:48] <ksh> thurs post close
[14:50] <surftrade> RIG at hod
[14:51] <Jimmy_No-Nose> gene
[14:52] <f57> EGPT +5.08%
[14:52] <f57> 18.39
[14:52] <mull> meanGENE sneaky odd little trader
[14:52] <dwgooden> very odd mull
[14:53] <songw> reflecting lack of violence
[14:53] <dwgooden> cant tell if spoofers or what
[14:53] <dwgooden> but i ll go with it
[14:53] <spiderman> GENE, there she goes.
[14:54] <bg> in some GENE
[14:54] <f57> EGPT 18.50
[14:54] <dantes> FNMA strong again here
[14:56] <dominoes1> AZC MACD crossed into positive on 5 min
[14:56] <win> food inflation on cnbc it sounds like
[14:58] <win> is food inflation causing these uprisings
[14:58] <ksh> SOHU nhod
[14:58] <Newsbounce> OREX the volume disclosed buying 2.69 now. all bouncers are in the green on it
[14:59] <DVDKing> ARMH next level
[14:59] * jawc has left #premieretrader
[14:59] <d4ys> ARMH just huge, will run into close, and cramer will give it another leg in ah, 52w almost guaranteed to fall
[15:00] <Newsbounce> lion master in OREXnice
[15:00] <Newsbounce> http://www.thelion.com/bin/profile.cgi?c=s&ru_name=Lionmaster
[15:00] <Newsbounce> 2.60
[15:00] <Newsbounce> 2.70