When a medical device company comes out with groundbreaking technology which can prevent blood loss during a trauma– it has our attention
Does it have your attention?
With an unprecedented need for their product – this unknown stock may be ready to lift off
Overview
ARTH At A Glance:     (As of 8/15/16)
Price                               $0.68
Market Cap                   $91.26 M
Average Volume (3m)    452,623
Shares Out (mil)            134.21
Float (mil)                     108.59
Price Target :                  $1.50
*Source: Yahoo Finance
Start your research at http://www.archtherapeutics.com/
TRADDR traders may remember that we first mentioned Arch Therapeutics back in December of 2015.  The stock price was $0.22 at the time.  It has been one of our top winners in 2016.  In fact, the stock went ballistic in June – trading as high as $0.94 – providing subscribers a possible

327%
return

.
As you can see, the stock is still up

over 200%

since December.  While we love providing you with winners, it would be a disservice if we did not go back and revisit as the company is making huge strides since we first brought it to your attention and now Wall Street is finally taking notice.
ARTH

(Arch Therapeutics, Inc.), a medical device company, is developing a novel approach to stop bleeding (hemostasis) and control leaking (sealant) during surgery and trauma care.
ARTH is developing products based on an innovative self-assembling peptide technology platform to make surgery and interventional care faster and safer for patients.
ARTH's flagship development stage product candidate, the AC5 Surgical Hemostatic Device™, is being designed to achieve hemostasis in minimally invasive and open surgical procedures.
ARTH recently completed its first clinical study to assess safety and performance and will be releasing the results shortly.  The company anticipates filing a CE mark application for AC5 during summer 2016 and is currently planning its next clinical-regulatory steps for both the EU and the US.
According to a new market report published by Transparency Market Research "Hemostasis and Tissue Sealing Agents Market – Global Industry Analysis, Size, Share, Growth, Trends and Forecast, 2014 – 2020" the global hemostasis and tissue sealing agents market was valued at $3 Billion in 2013 and is estimated to reach a market worth of $5.2 Billion by 2020, growing at a CAGR of 8.0% from 2014 to 2020.
DID YOU KNOW?
                        Hemostasis and tissue sealing agents market comprises advanced wound care medical devices that are used to cease hemorrhage during surgeries. The hemostasis and tissue sealing agents market is witnessing steady growth due to introduction of technologically sound hemostat products which are multi-usage and ready-to-use by key companies such as Arch Therapeutics, Inc!
"There are an increasing number of patients on long-term therapy with antiplatelet agents and other anticoagulants. We are often required to perform procedures and operations on patients with active antiplatelet and anticoagulation therapy. Hemostasis for bleeding control in these patients is extraordinarily challenging. None of the hemostatic agents available today have demonstrated enhanced efficacy in the setting of antiplatelet therapy. The results described in this study are extremely promising because we surgeons need improved hemostatic control in the setting of antiplatelet therapy, which many of our patients are required to stay on for its cardioprotective effects."
♦Dr. Paresh Shah, Director General Surgery and Vice Chair of Surgery at NYU Langone Medical Center♦
Recent Press:
June 6: Arch Therapeutics Completes Patient Enrollment in Clinical Study of AC5
May 27: Arch Therapeutics Reports Significant Wound Healing Results in Pre-Clinical Safety Study with AC5 Surgical Hemostatic Device(TM)
May 16: Arch Therapeutics Announces Issuance of Composition of Matter Patent Covering Self-Assembling Peptidomimetics
May 10: Arch Therapeutics Receives Notice of Allowance for Composition of Matter and Method of Use Patent Covering Solid Forms of Self-Assembling Peptides
What is the Market Opportunity for Arch Therapeutics Medical Devices?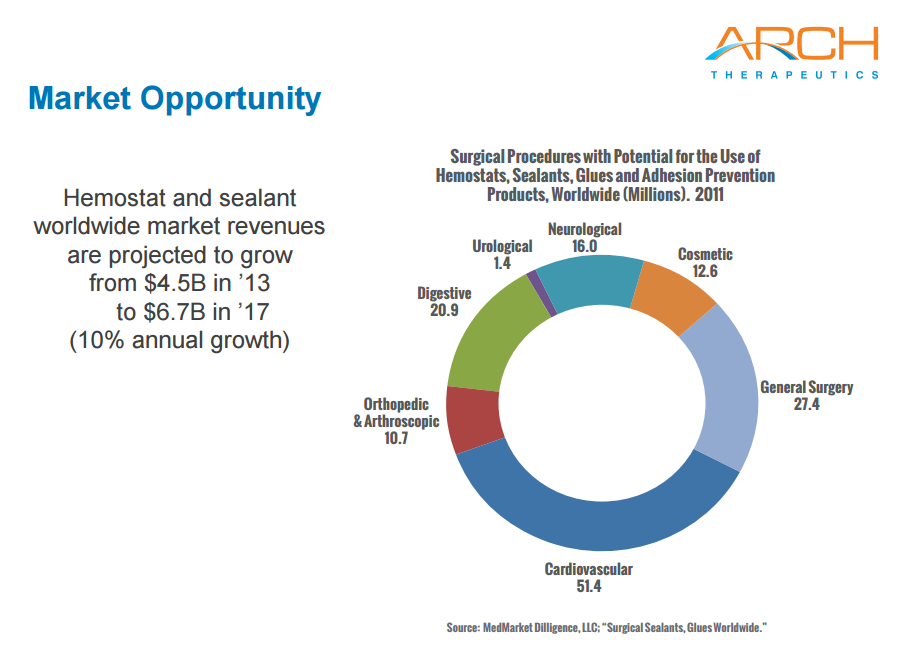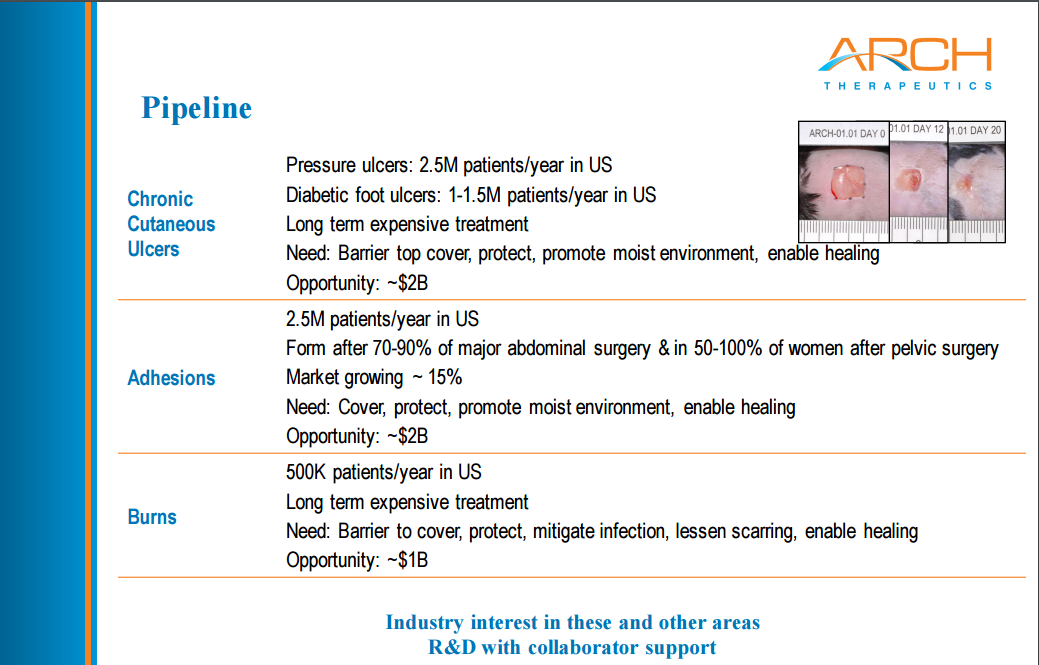 A Double Technical Breakout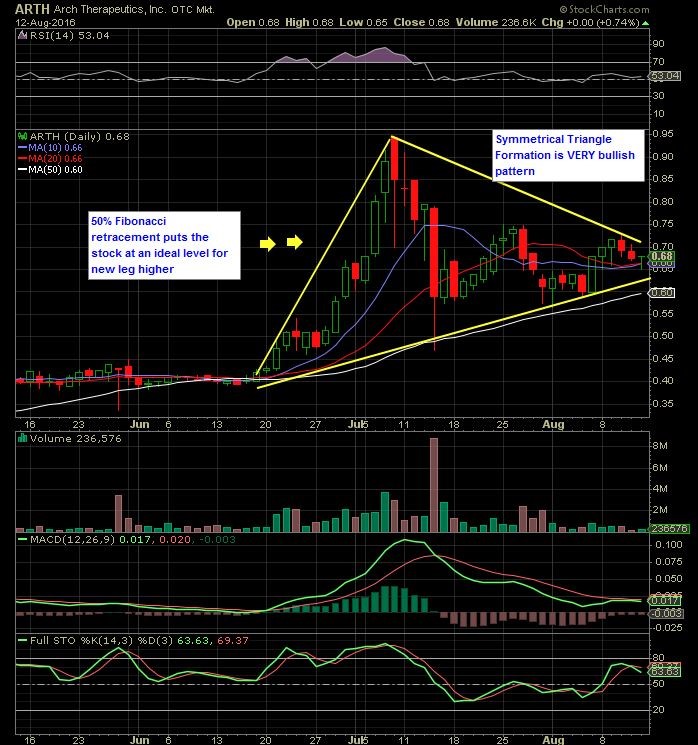 Two Confirmations of Bullish Uptrend
Our experienced chartists see the tape.  This is an ideal scenario for a breakout.
We can see a Symmetrical Triangle Formation.  This is a VERY Bullish pattern.
The symmetrical triangle is mainly considered to be a continuation pattern that signals a period of consolidation in a trend followed by a resumption of the prior trend.
Since the run from $0.40 all the way to $0.94, we see a 50% Fibonacci retracement.  This is an ideal level for consolidation before the next move.
This represents a major move in the Bull's direction.
ARTH is primed for continuation and these three catalysts support its potential breakout:
ARTH has a breakthrough medical device in a market which has very few viable alternatives. Results are due any day now from the clinical study and this could be a very profitable product for Arch Therapeutics.
ARTH has a very bullish chart with a Symmetrical Triangle Formation and 50% Fibonacci retracement. This is a beauty of a chart.

ARTH has

over $5.2M

in cash with a burn rate of $1.3M per quarter. The company is well capitalized moving forward.
Start your research on ARTH ASAP.