Golden Investment Opportunity: This $0.30 Junior Miner has Struck Gold as Savvy Investors look for Safe Haven Investments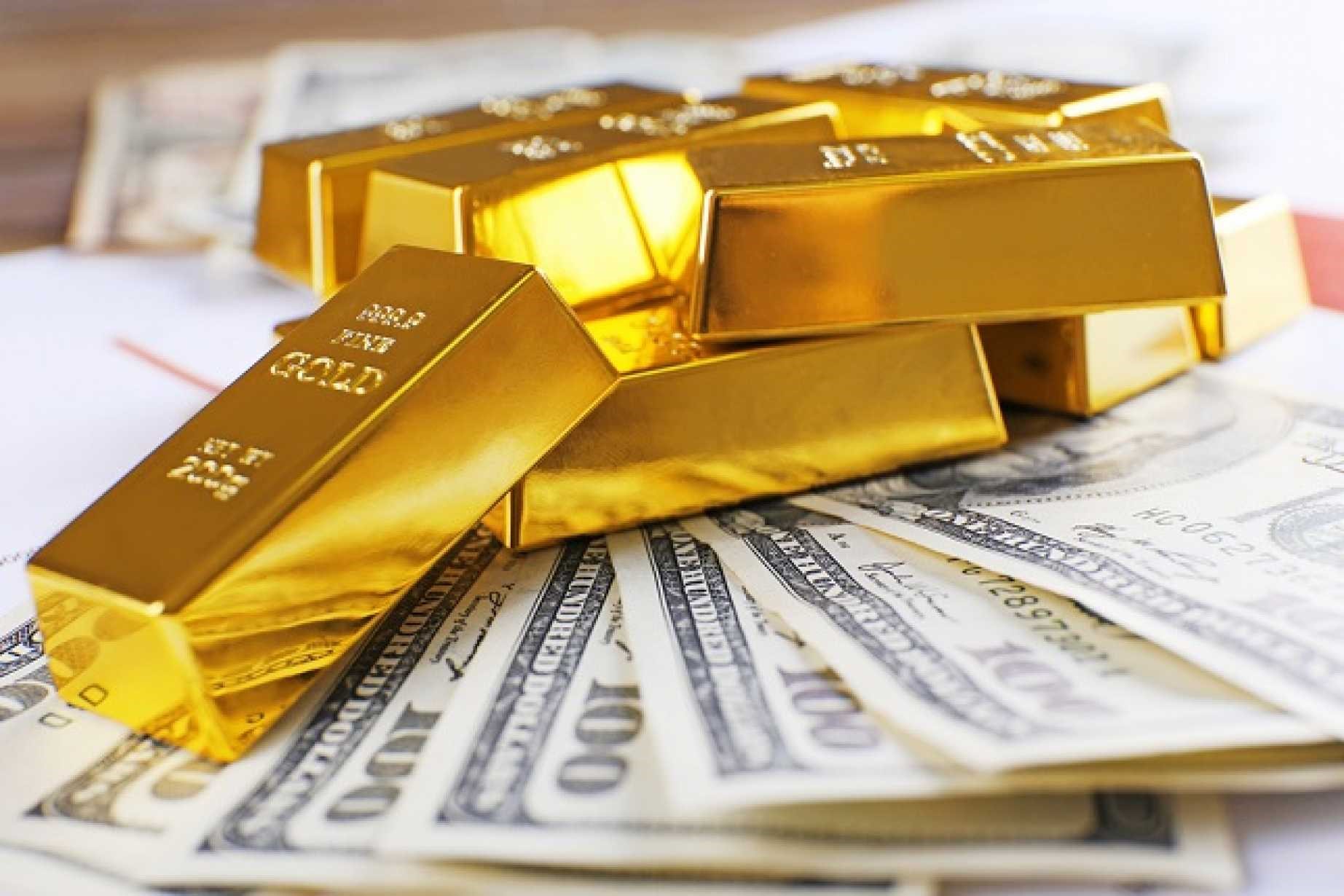 The historic bull run of 2020 has minted a brand new class of millionaires.  Now that the broader markets are starting to cool off, savvy investors are looking for smart places to park profits.  Tech is no longer safe.  Biotechs are too volatile.  Which is the most reliable sector?  No need to reinvent the wheel here – it's still Gold. After breaking out above $2000USD/oz. in August, the world's most popular safe-haven asset is giving signs that a surge in Gold Stocks is coming soon. 
Exploration companies can offer substantial leverage for investors looking to capitalize on a Gold Bull Market.  Don't make the mistake of betting on a large cap to bring serious gains.  It's the undiscovered Junior Miners which offer the greatest chance for price appreciation.  A certain Undiscovered Explorer has found high-grade gold while drilling in a highly prolific spot, and Wall Street has yet to notice… until now.
The broader markets have been a struggle –even for seasoned experts – as extreme volatility, followed by perplexing moves, have become the norm.  With Bulls and Bears duking it out, the retail investor is often left in wonder.  Between the US Presidential Election, Civil Unrest, Daily Shootings and Deaths, CoronaVirus Global Health Emergency, tweets from US President Trump, and several international crises in the news, investors are VERY nervous. An 11-year Bull Market can only go so high.  Global uncertainty on a massive scale, plus profit taking in the markets, creates a perfect storm for safe-haven assets such as Gold.  Warren Buffet, the Oracle of Omaha who was critical of Gold in the past, has changed his tune and recently took a $564M stake in Barrick Gold. Ongoing economic tension could very well generate a strong move higher for Gold into 2021.  After a modest correction, prices are once again rising quickly.  In April, Bank of America predicted gold could hit $3,000 per ounce. This surge in gold should be the beginning of a longer-term bull market. 
Over the last 2 years of this bull market, Gold has kept pace with the S&P 500 – long used as the benchmark for determining the economic health of the United States.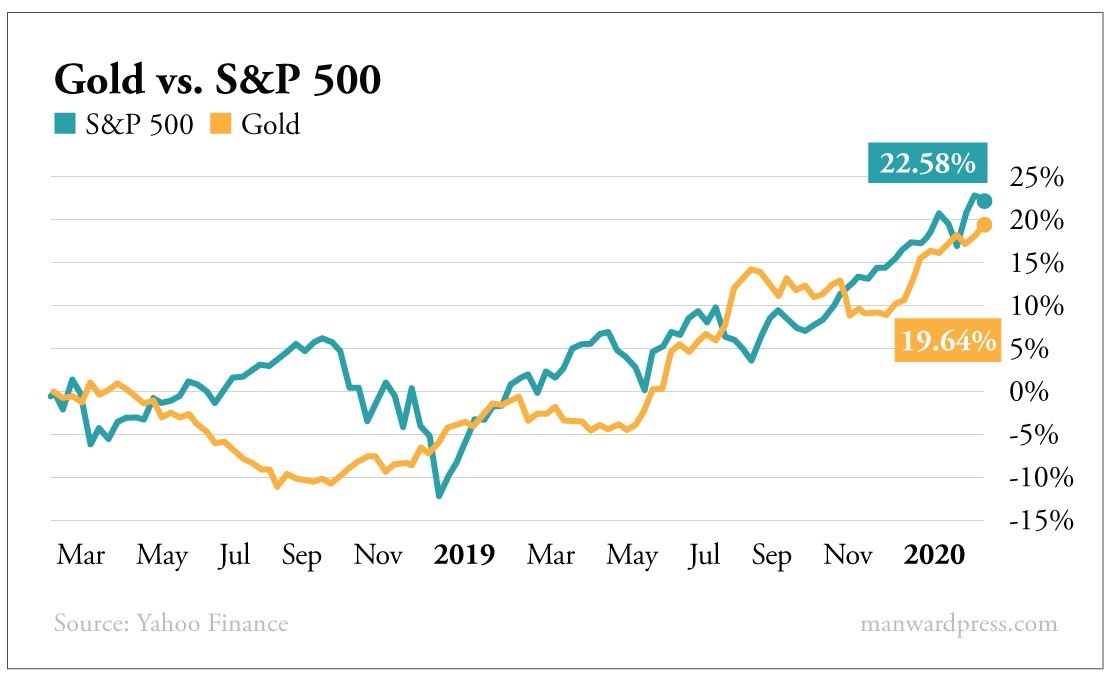 Instead of storing gold bars under your bed, buying a Gold ETF, or investing in a major gold producer, junior exploration companies offer some of the best leverage to maximize potential on rising gold prices.  Owning Gold Stocks is one of the more prudent ways to gain exposure to this precious metal, as well as diversifying your portfolio.
It's time to start thinking differently about gold. It isn't meant to be just a mere sliver of your portfolio. It should be a cornerstone.  One undiscovered junior exploration company in particular, struck gold in a stable, world-class gold mining region which has produced over 170 Million ounces of Gold, and Wall Street hasn't picked up on it yet.
Do we have your attention?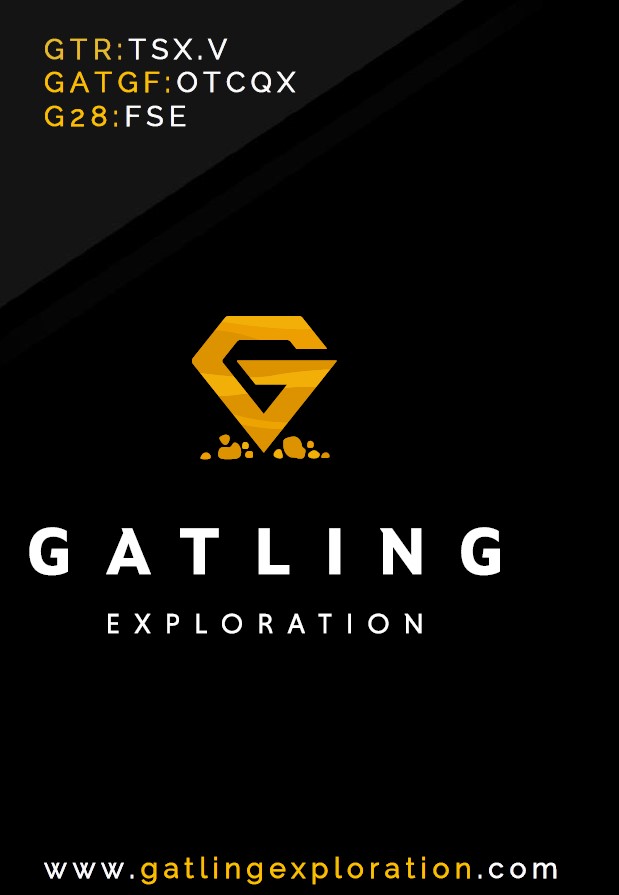 Gatling Exploration, Inc. (OTCQB: GATGF)  (TSXV: GTR) – is a Canadian gold exploration company focused on advancing the Larder Gold Project, located in the prolific Abitibi greenstone belt in Northern Ontario. The Larder property hosts three high-grade gold deposits along the Cadillac-Larder Lake Break, as well as recently discovered gold trends north of the Break. It's 100% owned and controlled by Gatling, and the company's drill results have been impressive to say the least.
GATGF's Larder Gold Project comprises 3,370 hectares of patented and unpatented claims, leases and mining licenses of occupation, in a gold district famous for producing over 170 Million ounces of gold.
The Larder project benefits from a truly vast database of recent and historical data, including more than 2,000 drill holes, 90,000 assays, 1,000 surface rock samples, 500 soil samples, as well as geophysics, Lidar and bedrock geology. Make no mistake, this gives Gatling a significant edge moving forward, particularly because GATGF is utilizing state of the art Artificial Intelligence to identify potential new Gold locations. The advanced Computer Aided Resource Detection System marks targets by means of pattern recognition and machine learning. The more data you have, the better the system works, and Larder has a lot of data! New targets are currently being evaluated and will be explored using traditional exploration techniques, in the very near future.
Location! Location! Location!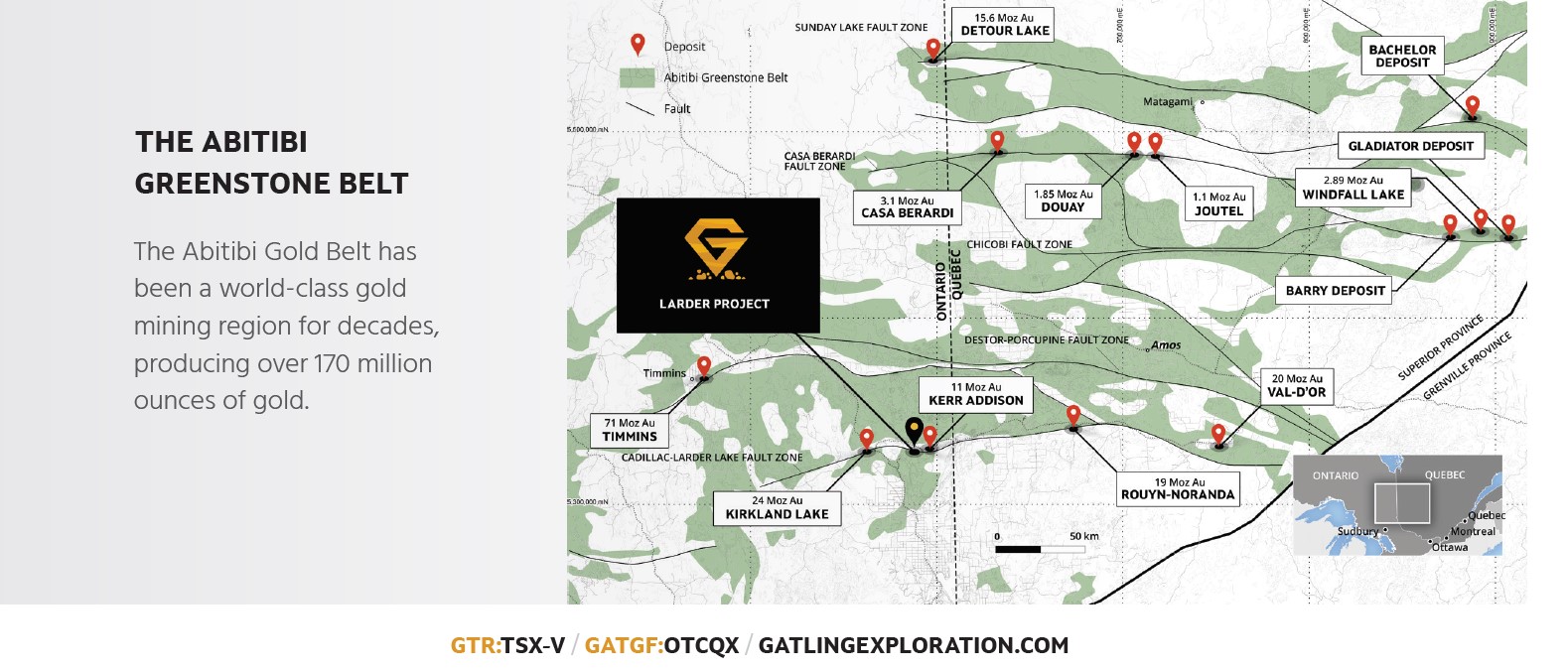 GATGF's Larder Gold Project lies in the prolific Abitibi greenstone belt in an established, high-production mining camp.  The land is strategically located in the Kirkland Lake-Larder Lake mining district between Kirkland Lake Gold's (TSX: KL)(NYSE: KL) eponymous project (24 million ounces gold) and contiguous to Agnico Eagle's (TSX: AEM)(NYSE: AEM) advanced exploration project hosting multiple deposits with over 3.5 million ounces of gold defined collectively.
GATGF is perfectly positioned to prosper.  While a few parts of the Larder project had been extensively but individually explored in the past, they had never been consolidated because they were considered standalone prospects. Gatling's expert team, including the former principal geologist for the legendary Sprott Mining Group, surmised that the three known gold deposits (Bear, Chemenis and Fernland) were all part of one connected gold system in a trend over 4.5 kilometers long.
The team successfully obtained all of the claims and drill permits, and then began drilling. The results from that first program quickly proved the team was onto something….
Gatling didn't take long to deliver a string of major successes. By June of this year, the company had repeatedly hit high-grade gold and successfully connected two of the three deposits to create an unbroken 2.5 kilometer strike length of gold mineralization. GATGF also expanded the footprints of all three deposits and hit new lenses of mineralization. Intercepts along this main break have ranged as high as 85.1 g/t Au over 3.0 meters,

20.7 g/t Au over 6.1 meters

, 10.8 g/t Au over 8.0 meters, and 11.9 g/t Au over 4.0 meters. As if that weren't enough, Gatling also discovered significant mineralization at shallow depth, despite previous explorers believing that none existed near surface. That's a big deal because, all things being equal, the closer any deposit is to surface, the greater the potential economics.
Work to date only covers about 20% of the Cadillac Larder Break, but includes an area which hosts an historic mineral resource estimate.  This estimate shows 960,000 ounces at 5.0 g/t gold (indicated and inferred) for the Bear and Cheminis deposits, and Gatling has further validated key sections of that mineralization as high grade gold!
The second drill program along the Main Break has recently started and the team is currently focused on the goal of connecting that third deposit before moving on to equally attractive targets along the Break and elsewhere on the property!
GATGF STRIKES GOLD
In the mining world, it's pretty common for one company to pick up where another left off. What you don't often see is what's happening to Gatling – a junior explorer benefiting from millions of dollars of work by larger Gold companies in such a highly prolific area. The thing is, previous explorers believed the deposits were independent of each other and, as Gatling has already proved, those explorers were wrong.

GATGF has connected the dots backwards and forward, which is creating the future for Gatling Exploration by proving the existence of a very large mineralized system.  Furthermore, the estimate of nearly one million ounces of gold does not include over 70,000m of drill holes!
GATGF STRIKES MORE GOLD 
Acquiring, expanding and connecting the deposits on the Main Break at Larder was not enough for Gatling's team. After careful analysis, they managed to pick up an adjacent claim 6 KM north of their deposits where, most recently, Gold Fields (NYSE American: GV) had spent $6.0 million across 2012-2013 on early stage exploration. The area is called Kir Vit. GATGF wasted no time and, in March of this year, the company completed a first pass round of drilling, during which they hit gold in 13 of 16 drill holes over a 500m strike length and discovered 2 new gold trends!  Gatling is now planning a 3,500-meter Phase 2 drill program at Kir Vit to test additional gold targets.
Deposits in the region often occur in clusters or along trends, meaning where you've found one, more may well follow. Often, one large deposit is surrounded by a group of smaller satellite deposits with similar geology – an important fact that feeds into Gatling's AI advantage.
There's nothing Artificial about Intelligence

GATGF is a forward thinker and has engaged artificial intelligence experts at Windfall Geotek to utilize the firm's advanced resource detection system to identify and prioritize even more gold targets at the Larder project.  Using its proprietary Computer Aided Resource Detection System, (CARDS), Windfall searches for and identifies gold targets using AI pattern recognition and machine learning cultivated from its extensive database.  The CARDS system is allowing Gatling to analyze and compare the deposits on the Larder Project with those from miners and larger explorers in the region, which gives them yet another edge.
According to the World Gold Council, the world's central banks have been big buyers of Gold for over a decade.  Central banks are now holding 35,000 tonnes of Gold, worth about $2 Trillion dollars.  It's no wonder Gold is one of the best performing asset classes in 2020.  Investors, via exchange-traded funds, now own more gold than most central banks.  The bull market for Gold is thriving.
Junior Minors can offer a cost-effective means of investing in the Gold market, while providing significant upside potential.  A recent Forbes article cites that larger, established, mining companies must purchase smaller ones in order to increase reserves.
The two ways to replenish depleted reserves is either find a new deposit, or purchase a company with existing gold ore.  The latter of these is the less risky of the two initiatives, and creates a solid argument for allocating funds in any portfolio towards an undervalued Junior Miner that has proven gold in the ground, such as Gatling. The case is even stronger when you consider the immense potential of the Larder project, which is easily accessible, and is already at an advanced exploration stage.
Gatling Exploration, Inc. (OTCQB: GATGF)  (TSXV: GTR) – is an under-the-radar, largely unknown, junior explorer that offers potential upside opportunity for timely investors.  Currently trading at a market cap well under

$20M USD

, this could prove to be highly undervalued when you factor in all of it's advantages and accomplishments.  In short, this junior miner is well-positioned to ride the gold Bull Run straight to the bank.
For a better understanding of GATGF and its business, plus risks of owning its shares, click here to view GATGF's filings.
Please read them thoroughly before many any investment decisions.
Thank you for Reading.
DISCLAIMER PLEASE NOTE:
This is a paid advertisement and all individuals should verify all claims and perform their own due diligence on GATGF/GTR (and / or any other mentioned companies and / or securities), and read this TRADDR Blogs/profiles are not a solicitation or recommendation to buy, sell or hold securities. ​TRADDR and/or affiliates may post paid advertisements and is not offering securities for sale. Neither ​TRADDR nor its owners, operators, affiliates or anyone disseminating information on its behalf is registered as an Investment Advisor under any federal or state law and none of the information provided by ​TRADDR its owners, operators, affiliates or anyone disseminating information on its behalf should be construed as investment advice or investment recommendations.
​TRADDR does not recommend that the securities profiled should be purchased, sold or held and is not liable for any investment decisions by its readers or subscribers.
Information presented by TRADDR may contain "forward-looking statements" within the meaning of Section 27A of the Securities Act of 1933 and Section 21E of the Securities Exchange Act of 1934. Any statements that express or involve discussions with respect to predictions, expectations, beliefs, plans, projections, objectives, goals, assumptions, or future events or performance, are not statements of historical fact and may be "forward-looking statements." Forward-looking statements are based on expectations, estimates and projections at the time the statements are made that involve a number of risks and uncertainties which could cause actual results or events to differ materially from those presently anticipated. Forward-looking statements may be identified through the use of words such as "expects," "will," "anticipates," "estimates," "believes," "may," or by statements indicating that certain actions "may," "could," or "might" occur.
THIS SITE IS PROVIDED BY TRADDR ON AN "AS IS" AND "AS AVAILABLE" BASIS. ​TRADDR MAKES NO REPRESENTATIONS OR WARRANTIES OF ANY KIND, EXPRESS OR IMPLIED, AS TO THE OPERATION OF THIS SITE OR THE INFORMATION, CONTENT, MATERIALS, OR PRODUCTS INCLUDED ON THIS SITE. YOU EXPRESSLY AGREE THAT YOUR USE OF THIS SITE IS AT YOUR SOLE RISK.
TO THE FULL EXTENT PERMISSIBLE BY APPLICABLE LAW, TRADDR DISCLAIMS ALL WARRANTIES, EXPRESS OR IMPLIED, INCLUDING, BUT NOT LIMITED TO, IMPLIED WARRANTIES OF MERCHANTABILITY AND FITNESS FOR A PARTICULAR PURPOSE. ​TRADDR DOES NOT WARRANT THAT THIS SITE, OR ITS SERVERS ARE FREE OF VIRUSES OR OTHER HARMFUL COMPONENTS. TRADDR MEMBERS, MANAGERS, OWNERS, AGENTS, AND EMPLOYEES WILL NOT BE LIABLE FOR ANY DAMAGES OF ANY KIND ARISING FROM THE USE OF THIS SITE, INCLUDING, BUT NOT LIMITED TO DIRECT, INDIRECT, INCIDENTAL, PUNITIVE, AND CONSEQUENTIAL DAMAGES.
CERTAIN STATE LAWS DO NOT ALLOW LIMITATIONS ON IMPLIED WARRANTIES OR THE EXCLUSION OR LIMITATION OF CERTAIN DAMAGES. IF THESE LAWS APPLY TO YOU, SOME OR ALL OF THE ABOVE DISCLAIMERS, EXCLUSIONS, OR LIMITATIONS MAY NOT APPLY TO YOU, AND YOU MIGHT HAVE ADDITIONAL RIGHTS.
By using ​​TRADDR, you agree, without limitation or qualification, to be bound by, and to comply with, these Terms of Use and any other posted guidelines or rules applicable.
The website contains links to other related World Wide Web Internet sites and resources. ​​TRADDR is not responsible for the availability of these outside resources, or their contents, nor does ​​TRADDR endorse nor is ​​TRADDR responsible for any of the contents, advertising, products or other materials on such sites. Under no circumstances shall ​​TRADDR be held responsible or liable, directly or indirectly, for any loss or damages caused or alleged to have been caused by use of or reliance on any content, goods or services available on such sites. Any concerns regarding any external link should be directed to its respective site administrator or webmaster.
You agree to indemnify and hold​ ​TRADDR, its officers, directors, owners, agents and employees, harmless from any claim or demand, including reasonable attorney's fees, made by any third party due to or arising out of your use of the website, the violation of these Terms of Use by you, or the infringement by you, or other user of the website using your computer, of any intellectual property or other right of any person or entity. We reserve the right, at our own expense, to assume the exclusive defense and control of any matter otherwise subject to indemnification.
​​TRADDR is owned and operated by New Edge Media, Inc., which is a US based corporation. We often post paid advertisements, also known as stock touts or stock promotions, where TRADDR disseminates favorable information (this "Article") about publicly traded companies (the "Profiled Issuers").
​We publish the Information on our website, ​TRADDR.com which may get disseminated through  email list rentals, social media, Chat rooms, message boards, and the like, which may feature "research" reports, on message boards and in email communications for specific time periods that are agreed upon between us and the Profiled Issuer and / or third party paying us. Our publication of the Information is known as a "Campaign". This information may be seen by or sent to potential investors at different times that are minutes, hours, days or even weeks apart. Typically, the trading volume and price of a Profiled Issuer's securities increases after the information is provided to the first group of investors. Therefore, the later an investor receives the Information, the more likely it is that he will suffer trading losses if they purchase the securities of a Profiled Issuer late in a Campaign. We expect to be paid five thousand dollars by Gatling Exploration, Inc. to advertise the Profiled Issuer, Gatling Exploration, Inc. ​TRADDR has been hired by a third party for a period  for a period beginning on September 1st 2020 to publicly disseminate information about (GATGF/GTR)  We will update any changes to our compensation. We own zero shares of (GATGF/GTR) and will not be buying or selling any shares of (GATGF/GTR).
We believe and assume that Third Parties paying us to market the Profiled Issuer intend to sell shares they hold while we suggest investors to research and/or purchase during the Campaign. GATGF/GTR is a penny stock that may become illiquid (little to no trading volume), and therefore these securities are subject to wide fluctuations in trading price and volume. During the Campaign the trading volume and price of the securities of each Profile Issuer will likely increase significantly because of the media exposure. When the Campaign ends, the volume and price of the Profiled Issuer will likely decrease dramatically. As a result, investors who purchase during the Campaign and hold shares of the Profiled Issuer when the Campaign ends will probably lose most, if not all, of their investment.
The Information we publish in the Campaign is only a snapshot that provides only positive information about the Profiled Issuers. The Information consists of only positive content. We do not and will not publish any negative information about the Profiled Issuers; accordingly, investors should consider the Information to be one-sided and not balanced, complete, accurate, truthful and / or reliable. We do not verify or confirm any portion of the Information. We do not conduct any due diligence, nor do we research any aspect of the Information including the completeness, accuracy, truthfulness and / or reliability of the Information. We do not review the Profiled Issuers' financial condition, operations, business model, management or risks involved in the Profiled Issuer's business or an investment in a Profiled Issuer's securities.
All information in our Campaign is publicly available information from 3rd party sources and / or the Profiled Issuers and/or the 3rd parties that hire us. We may also obtain the Information from publicly available sources such as the OTC Markets, Google, NASDAQ, NYSE, Yahoo, Bing, the Securities and Exchange Commission's Edgar database or other available public sources.
We select the stocks we profile and / or pick as we are compensated to advertise them. If an investor relies solely on the Information in making an investment decision it is highly probable that the investor will lose most, if not all, of his or her investment. Investors should not rely on the Information to make an investment decision.
The source of our compensation varies depending upon the particular circumstances of the Campaign. In certain cases, we are compensated by the Profiled Issuers, third party shareholders, and / or other parties related to the Profiled Issuers such as officers and/or directors who will derive a financial or other benefit from an increase in the trading price and/or volume of a Profiled Issuer's securities.
We make no warranty and / or representation about the Information, including its completeness, accuracy, truthfulness or reliability and we disclaim, expressly and implicitly, all warranties of any kind, including whether the Information is complete, accurate, truthful, or reliable and as such, your use of the Information is at your own risk. The Information is provided as is without limitation.
We are not, and do not act in the capacity of any of the following; as such, you should not construe our activities as involving any of the following: an independent adviser or consultant; a fortune teller; an investment adviser or an entity engaging in activities that would be deemed to be providing investment advice that requires registration either at the federal and / or state level; a broker-dealer or an individual acting in the capacity of a registered representative or broker; a stock picker; a securities trading expert; a securities researcher or analyst; a financial planner or one who engages in financial planning; a provider of stock recommendations; a provider of advice about buy, sell or hold recommendations as to specific securities; or an agent offering or securities for sale or soliciting their purchase.
There are numerous risks associated with each Profiled Issuer and investors should undertake a full review of each Profiled Issuer with the assistance of their financial, legal, and tax advisers prior to purchasing the securities of any Profiled Issuer.
We are not objective or independent and have multiple conflicts of interest. The Profiled Issuers and parties hiring us have conflicts of interest. Third parties that have hired us and own shares will sell these shares while we tell investors to purchase, and this selling of the Profiled Issuer's securities will likely cause investors to suffer losses.
Our publication of the Information involves actual and material conflicts of interest including but not limited to the fact that we receive monetary compensation in exchange for publishing the (favorable) Information about the Profiled Issuers; and we do not publish any negative information, whatsoever, about the Profiled Issuers; in addition to the fact that while we do not own the Profiled Issuer's securities, the third parties that hired us do, and intend to sell all of these securities during the Campaign while we publish favorable information that instructs investors to purchase, and this selling of the Profiled Issuer's securities will likely cause investors to suffer losses.
We are not responsible or liable for any person's use of the Information or any success or failure that is directly or indirectly related to such person's use of the Information because we have specifically stated that the information is not reliable and should not be relied upon for any purpose. We are not responsible for omissions and / or errors in the Information and we are not responsible for actions taken by any person who relies upon the Information.
We urge Investors to conduct their own in-depth investigation of the Profiled Issuers with the assistance of their legal, tax and / or investment adviser(s). An investor's review of the Information should include but not be limited to the Profiled Issuer's financial condition, operations, management, products and / or services, trends in the industry and risks that may be material to the profiled Issuer's business and other information he and his advisers deem material to an investment decision. An investor's review should include, but not be limited to a review of available public sources and information received directly from the Profiled Issuers or from websites such as Google, Yahoo, Bing, OTC Markets, NASDAQ, NYSE, www.sec.gov or other available public sources.
We are providing you with this disclaimer because we are publishing advertisements about penny stocks. Because we are paid to disseminate the Information to the public about securities, we are required by the securities laws including Section 10(b) of the Securities Exchange Act of 1934 (the "Exchange Act") and Rule 10b-5 thereunder, and Section 17(b) of the Securities Act of 1933, as amended (the "Securities Act"), to specifically disclose my compensation as well as other important information, This information includes that we may hold, as well as purchase and sell, the securities of a Profiled Issuer before, during and after we publish favorable Information about the Profiled Issuer. We may urge investors to purchase the securities of a Profiled Issuer while we sell my own shares. The anti-fraud provisions of federal and state securities laws require us to inform you that we may engage in buying and selling of Profiled Issuer's securities before, during and after the Campaigns.
Any investment in the Profiled Issuers involves a high degree of risk and uncertainty. The securities may be subject to extreme volume and price volatility, especially during the Campaigns. Favorable past performance of a Profiled Issuer does not guarantee future results. If you purchase the securities of the Profiled Issuers, you should be prepared to lose your entire investment. Some of the risks involved in purchasing securities of the Profiled Issuers include, but are not limited to the risks stated below.
We do not endorse, independently verify or assert the truthfulness, completeness, accuracy or reliability of the Information. We conduct no due diligence or investigation whatsoever of the Information or the Profiled Issuers and we do not receive any verification from the Profiled Issuer regarding the Information we disseminate.
If we publish any percentage gain of a Profiled Issuer from the previous day close in the Information, it is not and should not be construed as an indication that the future stock price or future operational results will reflect gains or otherwise prove to be advantageous to your investment.
The Information may contain statements asserting that a Profiled Issuer's stock price has increased over a certain period of time which may reflect an arbitrary period of time, and is not predictive or of any analytical quality; as such, you should not rely upon the (favorable) Information in your analysis of the present or future potential of a Profiled Issuer or its securities.
The Information should not be interpreted in any way, shape, form or manner whatsoever as an indication of the Profiled Issuer's future stock price or future financial performance.
You may encounter difficulties determining what, if any, portions of the Information are material or non-material, making it all the more imperative that you conduct your own independent investigation of the Profiled Issuer and its securities with the assistance of your legal, tax and financial advisor.
When 3rd parties that hire us acquire, purchase and / or sell the securities of the Profiled Issuers, it may (a) cause significant volatility in the Profiled Issuer's securities; (b) cause temporary but unrealistic increases in volume and price of the Profiled Issuer's securities; (c) if selling, cause the Profiled Issuer's stock price to decline dramatically; and (d) permit themselves to make substantial profits while investors who purchase during the Campaign experience significant losses.
The securities of the Profiled Issuers are high risk, unstable, unpredictable and illiquid which may make it difficult for investors to sell their securities of the Profiled Issuers.
We may hire third party service providers  to electronically disseminate live news regarding the Profiled Issuers, yet we have no control over the content of and do not verify the information that the Profiled Issuers and/or third party service providers publish. These third party service providers are likely compensated for providing positive information about the Issuer and may fail to disclose their compensation to you.
If a Profiled Issuer is a SEC reporting company, it could be delinquent (not current) in its periodic reporting obligations (i.e., in its quarterly and annual reports), or if it is an OTC Markets Pink Sheet quoted company, it may be delinquent in its Pink Sheet reporting obligations, which may result in OTC Markets posting a negative legend pertaining to the Profiled Issuer at www.otcmarkets.com, as follows: (i) "Limited Information" for companies with financial reporting problems, economic distress, or that are unwilling to file required reports with the Pink Sheets; (ii) "No Information," which characterizes companies that are unable or unwilling to provide any disclosure to the public markets, to the SEC or the Pink Sheets; and (iii) "Caveat Emptor," signifying buyers should be aware that there is a public interest concern associated with a company's illegal spam campaign, questionable stock promotion, known investigation of a company's fraudulent activity or its insiders, regulatory suspensions or disruptive corporate actions.
If the Information states that a Profiled Issuer's securities are consistent with the future economic trends or even if your independent research indicates that, you should be aware that economic trends have their own limitations, including: (a) that economic trends or predictions may be speculative; (b) consumers, producers, investors, borrowers, lenders and/or government may react in unforeseen ways and be affected by behavioral biases that we are unable to predict; (c) human and social factors may outweigh future economic trends that we state may or will occur; (d) clear cut economic predictions have their limitations in that they do not account for the fundamental uncertainty in economic life, as well as ordinary life; (e) economic trends may be disrupted by sudden jumps, disruptions or other factors that are not accounted for in economic trends analysis; in other words, past or present data predicting future economic trends may become irrelevant in light of new circumstances and situations in which uncertainty becomes reality rather than predicted economic outcome; or (f) if the trend predicted involves a single result, it ignores other scenarios that may be crucial to make a decision in the event of unknown contingencies.
The Information is presented only as a brief snapshot of the Profiled Issuer and should only be used, at most, and if at all, as a starting point for you to conduct a thorough investigation of the Profiled Issuer and its securities. You should consult your financial, legal or other adviser(s) and avail yourself of the filings and information that may be accessed at www.sec.gov, www.otcmarkets.com or other electronic media, including: (a) reviewing SEC periodic reports (Forms 10-Q and 10-K), reports of material events (Form 8-K), insider reports (Forms 3, 4, 5 and Schedule 13D); (b) reviewing Information and Disclosure Statements and unaudited financial reports filed with the OTCMarkets.com; (c) obtaining and reviewing publicly available information contained in commonly known search engines such as Google; and (d) consulting investment guides at www.sec.gov and www.finra.org. You should always be cognizant that the Profiled Issuers may not be current in their reporting obligations with the SEC and the OTC Markets and/or have negative legends and designations at otcmarkets.com.
​​TRADDR, reserves the right, at its sole discretion, to change, modify, add and/ or remove all or part of this Disclaimer and / or Terms of Use at any time.