Blake Insomnia (OTC QB: BKIT) – Don't Sleep on this Stock
Blake Insomnia can Improve Your Sleep.  Can it Boost your Portfolio as well?  Crawl into Bed with this stock.
 
After Birger Jan Olsen sold his osteoporosis device to Roche, he redirected his efforts to treating Insomnia – a market which affects an estimated 262M Individuals and has
ZERO first-in class drugs to treat

.
He is applying a Tried and Tested Framework to a Mass Scale Dissatisfaction in US Healthcare.
Can Blake Insomnia Awaken a Billion Dollar Industry?
Get ready for this innovative Microcap to Take Wall Street by A storm


Blake Insomnia (OTC QB:

BKIT

)
BKIT is a New York-based pharmaceutical company devoted to improving nighttime and daytime quality of life for people with insomnia.
BKIT's proprietary patent-pending compound, Zleepax (ZLX-1), has demonstrated efficacy without causing side effects which has been identified as the No. 1 problem with current sleep medications.
BKIT ZleepaxTM is the first sleep aid with beta blockers as the major active agent. First generation beta blockers inhibited natural melatonin secretion and had a negative impact on sleep. Recent publications have shown that certain third-generation beta blockers actually improve quality of sleep for patients with mild hypertension.
BKIT has completed Phase 1 testing on Zleepax and intends to enter into Phase II in 2017.  They have already applied for a Patent.
BKIT expects ZLX-1 to reach the market via a licensing, sale to or partnership with a larger pharmaceutical company.  Can Olsen's previous sale to Roche pave the way for BKIT to be acquired by a larger Biotech?
 
This is an Underserved Global Market. Opportunities Remain for Products that will Fulfill the Significant Unmet Needs in the Insomnia Market.
BKIT is poised to capitalize on it.
Want to see more?  Check out the video below:
 
THE GLOBAL MARKET FOR INSOMNIA DRUGS IS A BILLION DOLLAR INDUSTRY – ONE WHICH REMAINS

UNDERSERVED

More than 30% of the US population suffers from insomnia. Statistics show that 100,000 vehicle accidents occur annually due to drowsy driving. An estimated 1,500 die each year in these collisions. Employers spend approximately $3,200 more in health care costs on employees with sleep problems than for those who sleep well. insomnia costs the US Government more than $15 billion per year in healthcare costs, and US industry loses about $150 billion each year because of sleep deprived workers.
It's a major issue, and as these statistics show, it's currently underserved.
People that suffer from insomnia have a number of options, some clinically validated, some not, but the standard of care in the space is prescription sleeping pills, such as eszopiclone (Lunesta), ramelteon (Rozerem), zaleplon (Sonata), and zolpidem (Ambien). These are effective in that they help a patient get to, and maintain, sleep, but they have some pretty serious side effects. Notably, they result in residual daytime sedation. This, in turn, contributes to many of the above mentioned statistics.
A number of companies are working on a solution – a pharmaceutical grade sleeping aid that helps patient's sleep, but doesn't make them tired the following day. For a company that is successful to this aim, there's a large market waiting to be served. These companies are taking a variety of approaches, but one of the most promising is that of New York-based Blake Insomnia Therapeutics Inc (OTC QB:BKIT) – which trades at a mere $25M Market Cap (as of Jan 6th, 2017).
CEO Birger Jan Olsen recognized 20 years ago that medical compliance was a major issue in the osteoporosis space, one that was costing both pharmaceutical companies and physicians money.  He invented a system that would dramatically improve compliance. It was simple and cheap to implement, but most importantly, it worked. He patented it and raised the capital required to bring it to market. He ultimately sold it to big pharma incumbent Roche Holding Ltd. (RHHBY) for an undisclosed sum.
Shortly after the sale, he created i-Butler, which is a system designed to help mentally impaired individuals communicate with healthcare professionals. He's also got a mind mapping technology called Mindmetic on his patent roster, a system currently in use across the healthcare and consumer spaces.
Long story short, he builds products that solve problems.
Which brings us to Blake Insomnia.
Olsen's mother, like Millions of people, suffer from stress induced insomnia. Being a huge commercial opportunity, he aimed to tackle it. Most sleep aids don't help, or induce undesired side effects.  However one compound was found to be effective – a third generation beta blocker called Nebivolol. Nebivolol is used primarily to slow down the beating of the heart (as is the primary aim of all beta blockers) so as to reduce blood pressure. Olsen theorized that this slowing down of the heart must improve the sleep profile.
He uncovered a study which details the difference between third generation blockers like Nebivolol and earlier generation blockers; specifically, that those in the former category don't inhibit night time melatonin production, while those in the latter category do. He then theorized that stress induced insomnia is the result of a cycle of processes:
Sufferer experiences stress

Stress cases physical symptoms

Physical symptoms increase awareness

Increased awareness exacerbates stress

Back to stage 1
Putting the study together with this process cycle, Olsen figured out that if he could create something that broke the cycle between numbers 2 and 3, the physical symptoms wouldn't be severe enough for the patient to become aware of them, and this would lead to improved sleep.
The output that came from all of these inputs is a drug called ZLX-1. It's essentially a third generation beta blocker, but one for which Olsen has filed a patent for the use of this beta blocker to treat stress induced insomnia. With the patent application in place, he's building a company around the product, which he has since renamed Zleepax.
And therein lies the investment thesis (Going Public). The drug needs funding to carry it through the mid to late stage trials it will need complete before it can start to generate revenues. Phase I studies aren't necessary, since the active ingredient of the drug is an established beta blocker. Straight away, this removes a large portion of the time and cost associated with getting this asset to market. Phase II studies will kick off this year, and should complete mid to late 2018. The target is to enroll between 75-300 patients, something that Blake should have no problem doing based on the incidence rate of this condition, and the endpoints will revolve around safety and clinical benefit. A phase III study will follow, enrolling around 300 patients, and will target cementing the efficacy profile of Zleepax. Commercialization, assuming the trials run smoothly, should come in 2019.
The demand for this new medicine is off-the-charts!
By far, patients' #1 problem with sleep aids is daytime sedation. Many sleep medicines lead to a 'hangover' effect the next day, where the taker continues to feel tired and lethargic throughout the day. This has a disastrous effect on productivity and mental functioning, causing people to underperform at work and in relationships.
The product you're learning about today is the FIRST sleep-aid to function without the use of sedatives. This is a quantum leap in sleep technology–for the first time ever, people suffering from insomnia will finally be able to sleep better without having to sacrifice their energy and clear-mindedness during the day.
BKIT is trading at a microscopic market cap of just over $25.0M Capitalization.  If this drug hits the market and is proven to be successful, Blake Insomnia has the potential to be acquired at a tremendous premium over current valuations!
BKIT has a Natural Monopoly on the Industry.  ZLX-1 is a naturally-occurring beta-blocker with highly unusual properties that make it extremely different from other beta blocking drugs.
Most notably, ZLX-1 is a third-generation B1 receptor blocker, and is the ONLY compound that has ALL the benefits of beta blockers, WITHOUT the negative side effects, making it the side-effect-free "miracle drug" insomniacs have been waiting.
BKIT has nearly Unlimited Demand for its drug.  By using a 100% anti-drowsiness, non-sedative formula, Blake Insomnia Therapeutics is giving the market what they want.
For the first time ever, people will be able to to get to sleep at a reasonable hour, while ALSO being awake and ready throughout the day.
Once Wall Street discovers Blake Insomnia (OTC QB: BKIT) product hits the market, the demand should be off-the-charts.
Could BKIT be our next monster gainer?   Digest these facts.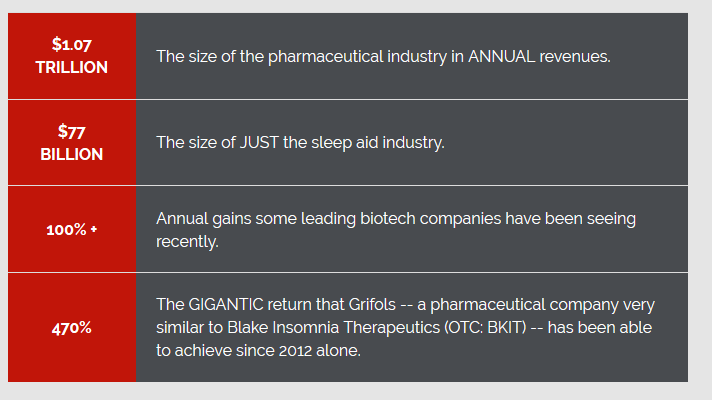 We'll let you continue your due diligence and we'll get back to you with updates in the near future.
 DISCLAIMER PLEASE NOTE: This BKIT stock report, blog, and any reposts on the TRADDR network are part of a commercial advertisement and is for general information purposes only. All content is for informational purposes only and should not be construed as an offer or solicitation of an offer to buy or sell securities. Neither the information presented nor any statement or expression of opinion, or any other matter herein, directly or indirectly constitutes a solicitation of the purchase or sale of any securities. Readers should always consult with a licensed securities professional before making any type of investment decision. Please be aware that TRADDR expects to be compensated Two Thousand Dollars from a 3rd party (Rich Team Consultants Pte Ltd.) to assist in the creation and dissemination of BKIT media and social network advertisements and/or corporate updates through the TRADDR Social Media Network.